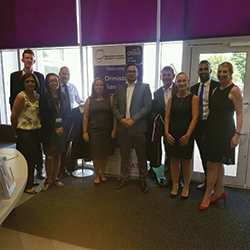 Earlier this month, we were proud to support Business in the Community's Passport to Employment Programme at schools local to ERIKS Head Office.
Together with other large employers in the Midlands Region (JLR and Lloyds Bank were amongst some of the well-known names) the programme allowed us to work with Y9 children to help:

Increase their awareness of job opportunities in Advanced Manufacturing and in the local area

Them identify the skills and qualities needed for those jobs

Them think about the skills and qualities they already have

Them understand the different career pathways available to them after the leave school
Colleagues who attended shared details of their job within ERIKS, but also their career paths and the skills/experience they gained from their first job to present day. They helped the students with activities that showed them examples of team work and recognising skills they already had that could be useful within the world of work.

As you can imagine, at 14 years of age, many of the students were totally unaware of the career paths they wished to take, but the activities allowed them to understand the types of qualities and skills they could work on now to aid their future successes.

A big thank you to: Amanda Forshaw, Lauren Matchett, Raj Deol, Richard Bennett & Russell Williams for their help in supporting this event.

Related Posts