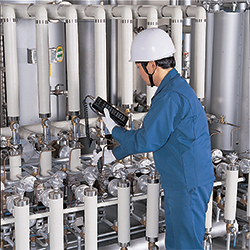 If you think of your plant as a human body, then steam is the blood. So the last thing you want is for it to be leaking away, or be watered-down by condensate that leads to water hammer: the steam system equivalent of high blood pressure.
Yet on many sites, people ignore signs of trouble – whether it's the hiss of steam escaping where it shouldn't, or the banging of water hammer.

One leads to loss of steam, loss of pressure, inefficiency and higher energy costs. The other can create pressure peaks of over 120 bars, in systems generally designed for 10 bars only. That can wear seals, create more leaks, and in the worst cases cause valves or pipes to rupture with a catastrophic – and potentially life-threatening – escape of high-pressure steam.
It's to prevent the inefficiency, waste, cost and potential danger of a poorly-functioning steam system that premium steam equipment supplier TLV has developed the Steam System Optimisation Program (SSOP).

35% Improved Energy Efficiency
Analysis of TLV's SSOP in over 100 hydrocarbon and chemical plants worldwide has shown substantial energy savings. Before the program was implemented, the plants had a leakage rate of 20-40%. After the program's successful implementation, the rate had dropped to under 5%.

SSOP involves three phases, and typically runs for five years. However, importantly for the wide variety of plants which use steam, it's a highly flexible program which can be adapted to many different requirements.

In general, the three phases are:

Phase 1: Identification of condensate discharge locations. The locations are identified, and inspected using sophisticated measuring equipment. The data gathered forms the basis of a Best Practice Steam Trap Management Program for improvements and optimisations. This is where quick results can be realised, with an average reduction in failure rate to less than 5%.

Phase 2: Equipment improvement. Working closely with the customer's process engineers and operators, TLV's steam specialists develop proposals to improve safety, reliability and productivity, as well as considering options for the recovery and re-use of condensate.

Phase 3: System simulation and optimisation. For larger installations with numerous steam producers and users, different pressure levels and changing steam loads, creating a simulation makes it much easier to calculate how to optimise the system. This phase produces proposals which usually show a return on investment in less than a year.


As well as increasing efficiency, and reducing costs through cutting energy use, the SSOP program now includes a risk-based element too.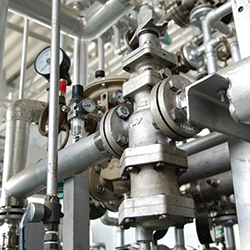 Risk and Reward
Decisions taken within the process industry sector regarding maintenance actions, inspection frequency and change management are increasingly risk-based. But until now this approach has not been available for steam systems.

Now a risk-based solution methodology has been developed by TLV, in co-operation with the TWI research institute and Dr. Brian Cane, to help engineers optimise steam system assets. The methodology – which is compliant with the latest API RP 581 guideline – uses a formal, systematic risk-management approach. It enables quantitative assessments of risk of failure for applications which use steam, and the selection and scheduling of risk mitigation recommendations.

So now engineers who employ the SSOP can expect to see not only cost- and energy-savings and efficiency gains, but also risk reductions.

The success of the program has been proved in more ways than one. In addition to failure rate reductions across more than 100 customers' sites, the TLV Steam System Optimisation Program has also been given two energy efficiency awards.

If you want to award yourself a more efficient and safer steam system,
If you want to award yourself a more efficient and safer steam system, contact your local service centre on 0845 006 600. Or if you're attending the ERIKS Innovation Excellence event at the MTC, Coventry, 3rd October 2017, visit the TLV Stand.
Related Posts