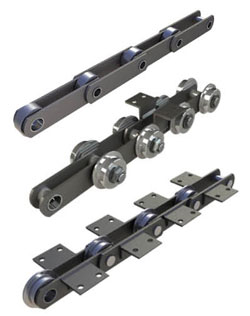 On the face of it, conveyor chain has a pretty simple job to do: just moving something from one place to another. But when you consider all the things that might possibly need moving by conveyor, you can begin to see that it's not so simple after all. Which is why manufacturing high-quality conveyor chain takes experience and expertise.
Experience, like chain, is one thing Fenner isn't short of. In fact they have been manufacturing chain for over 150 years.
Whatever the type of chain and whatever the application, customers are looking for many of the same benefits. A chain that's easy to fit. One that's hard wearing with minimal maintenance. That has a long service life. And which they know will be available and therefore readily replaceable, for many years to come.
Those things are as true of Fenner Conveyor Chain as they are of all Fenner chain.
Customers know they can rely on Fenner engineering experience and expertise, coupled with in-depth application knowledge, to produce the right chain for the job, at the right price. And one that will keep on performing long after other chain has had to be replaced.
Although Fenner chain can be found across the whole of industry, you're most likely to find Fenner Conveyor Chain in sectors such as:
Water

Timber

Theme parks

Automotive

Agriculture

Building, mining and quarrying,

Metals,

Food and beverage,

Materials handling.
High standards
The Fenner range of conveyor chains offers simple, standard solutions – but manufactured to the high standards you would expect from the market leader.
Heavy duty to provide hard wear, made to premium quality, and British manufactured, these fully-engineered solutions are available in a variety of materials and finishes, so you can find the one which best suits your requirements and your operating environment.
Made to meet both British and ISO standards, Fenner conveyor chains come in sizes up to 12" pitch, and include:
H

ollow pin chain up to 36,000lbf breaking load

S

olid pin chain up to 176,000 lbf breaking load and

Deep link chain
Made to meet your needs
With so many variants and so many different materials and finishes to choose from – suitable for so many different industries and applications – choosing a Fenner conveyor chain could be difficult. So ERIKS offer a quick and simple service to assess your conveyor chain requirements and provide the solution.
The Fenner conveyor chain enquiry form enables you to list all the specifications you require. Then all you have to do is pass it to your usual ERIKS contact, and it will quickly reach the engineering team for assessment.
Even allowing for numerous variations, ERIKS engineers are able to quickly assess and quote for your requirements. And once the quote is approved, it's a short road to the assembly and delivery of the perfect Fenner Conveyor Chain to meet your needs.
Find out more about Fenner Conveyor Chain here or contact your usual ERIKS service centre on 0845 006 6000.