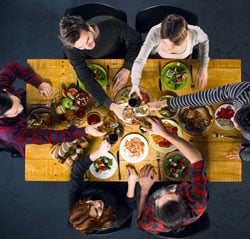 If one sector should be immune to the vagaries of the economy, it's food and beverage. After all, even in a recession people have to eat. However, that doesn't mean that industry trends in general don't affect these producers, or that the sector doesn't face its own unique issues.
No-one's yet invented a food or drink that keeps people young. So not even the food and drink sector can do anything about the ageing engineering workforce, which is leading to real difficulties in recruitment to maintenance teams. This has two effects.
One is that more businesses within the industry are investing in training and apprenticeships for maintenance engineers. The philosophy seems to be: if we can't find the people we need, we'll create them. The other effect is the rise in multi-skilled engineers. A factory might once have had the luxury of mechanical fitters and electricians, but now one person has to tackle both jobs.
However, not all producers in the sector are feeling forced to operate with a reduced workforce. Some are actually embracing the opportunity.
Past the use-by date
The need to reduce maintenance and increase energy efficiency is leading producers to look at equipment with a critical eye. Is it an effective asset, or an ageing one? Are there more innovative solutions, requiring less energy, or less maintenance and fewer maintenance personnel?
And if new purchases are being considered, they're increasingly decided on Total Cost of Ownership (TCO ) rather than unit cost. This takes into account not only the initial purchase price, but the running costs, cost of servicing, and length of service life. It means there are no false economies to be made through buying cheap upfront but paying dearly for it over the life of the product.
Consolidating MRO supplies away from OEM s to industrial suppliers is another way to reduce costs. However, quality and specification need to be maintained – especially for items which have direct contact with the food or beverage product. A failure which leads to product contamination and downtime can soon wipe out any savings on the purchase price.
Watching your waste
Reducing wastage of water, air, gas and energy can obviously lead to cost savings. But establishing where waste is occurring is not always easy.
One development which may become even more common is the use of air leak surveys, to identify where compressed air is leaking from the system. Air optimisation is a growing associated trend, where compressed air users utilise systems which ensure compressed air is produced only when it's required, rather than in a continuous – and wasteful – flow.
A thermographic survey is another relatively new option, which will undoubtedly be used more in the future, to help identify not only where heat is being generated (which, in a bearing for example, could indicate a fault) but also where it's being wasted. In the same way a survey with a gas imaging camera can help to save energy, as well as having health and safety benefits by revealing gas leakage.
Product contamination has always been an overriding concern in the sector, and another source of wastage – not to mention financial and reputational damage.
There's no possibility it will become any less important in the future. In fact, major customers of the sector – the supermarkets – are becoming even more stringent in their audits, not less, so manufacturers will have to take even greater care.
Relying on reputable repairers is one valuable principle worth applying, as some quality audits now include checking repairs on equipment which has contact with food and beverage products.
Food for thought
Some changes and developments in the food and beverage sector are already in train. Others may be slower in coming, harder to predict, or even impossible to foresee.
But the need for overall equipment efficiency, for improving uptime, and for lowering the total cost of ownership – all with a reduced workforce and without affecting product quality – is already clear. And the most efficient and effective producers in the sector are already taking steps to achieve it.
Related Posts