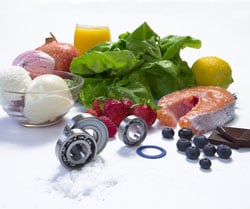 Phil Burge, Country Communication Manager at SKF, explains how specially designed SKF bearings help to reduce the chance of product recalls in the food industry.
Product recalls in the food industry – a nightmare that every company needs to avoid – are often caused by hard or sharp objects finding their way into the product.
Food safety management systems like HACCP place huge emphasis on safe food production, meaning that components such as rubber seals should be food-safe – or easily detectable. This is carefully controlled by rules from both the US Food and Drug Administration (FDA) and the European Community (EC).
Food Approved Lube
Recalls can also be triggered by the presence of unwanted lubricant in the product. This explains why food-grade lubes are increasingly used on a plant-wide basis – preventing the chance of adulteration by a non-food grease. Most food producers are surprised to find that virtually no standard bearings of normal or corrosion-resistant steels include an NSF HI registered grease as standard, risking potential food line contamination from lubricant leakage. SKF Foodline SSDGBB ensures that manufacturers have confidence in the food compliance of the bearing fitted to their assets.
Reducing the Risk of Contamination
SKF Food Line stainless steel deep groove ball bearings (VP311), SKF's latest series of food industry compliant bearings, are a sure-fire way of reducing the risk of food adulteration – and minimising product recalls.
The seals in the bearing, made from synthetic rubber, are both FDA- and EC-compliant – and are coloured blue, to make them more easily detectable in the case of damage

The high quality grease used in the bearings is suitable for typical food and beverage application conditions registered by NSF as category H1 – confirming that it fulfils the requirements listed in the FDA's guidelines under 21 CFR section 178.3570.
Unique Solution from SKF
This offer is unique to SKF: none of its competitors can offer the full package of food grade grease, plus FDA- and EC-approved blue sealing in their stainless steel deep groove ball bearings. Both the blue seal and the lubricant were developed for use in food and beverage applications, and the overall bearing meets the highest standards of food management systems and regulations.
The Food Line family includes 19 different standard sizes of deep groove ball bearings, in diameters ranging from 8 to 40mm.
SKF's stainless steel deep groove ball bearings offer high resistance to corrosion, to withstand the aggressive washdown regimes in the food industry.
To learn more about SKF Food Line bearings, please contact your local ERIKS service centre or visit the SKF website.
Related Posts