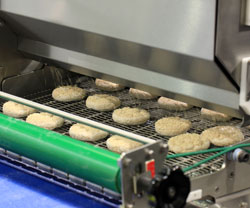 Food and drink production is leading growth in the UK's manufacturing sector, according to the latest industrial trends survey from the Confederation of British Industry (CBI).
The CBI survey of 522 firms revealed that manufacturing output growth had reached its highest peak in seven months, during February. The food and drink sector was also among the fastest growing manufacturing sub-sectors in the three months leading to February.
59% of manufacturers in the food and drink sector reported a rise in manufacturing output, with just 22% reporting a loss.
Strong export levels were also recorded, with 25% of companies exporting over and above the normal levels, with just 4% reporting a dip in exports.
A CBI spokesperson said: "Since food and drink is the UK's largest single manufacturing sector, it was the greatest contributor to overall UK manufacturing growth over that period" (three months leading to February).
"Although the sector plays a relatively smaller role in manufacturing exports than it does on the domestic scene, food and drink was nonetheless the second largest contributor to export orders' strength in February".
Related Posts: