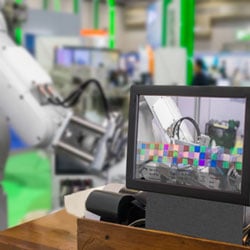 The factory of the future will be networked and extremely flexible. Those are two of the developments which come under the heading of "Industry 4.0". But is there more to "the next industrial revolution" than just technological developments? Festo believe so.
According to Festo, people – and their qualifications and training – will also play a critical part in the success of the factory of the future. Which is why, in all of their activities surrounding Industry 4.0, Festo focus on the benefits for the actual users of automation technology.
The world of production is changing fundamentally – moving more and more towards individualised products. The small batch quantities and large number of variants associated with this trend demand technologies that continually adapt themselves to changing conditions. This means flexible, networked production systems are required.

Theory of evolution

"The changes to the world of production – and thereby to automation technology – should be seen as an evolutionary process," explains Prof. Dr. Peter Post, Head of Corporate Research and Technology at Festo. "In the future, functions from the management and control levels will be shifted to the shop floor, and in some cases even down to the level of the individual components."

When that's the case, decentralised intelligence is increasingly required in the production systems, to be able to actively support the production process.

For example, in the future, production lines could be automatically adjusted to incoming individual customer orders. In the same way, any failure of individual systems or components will be immediately recognised in a networked production system and automatically compensated for by other systems. So whatever the plant's workload, the capacity utilisation will match it perfectly.

In the future, components will also be able to organise themselves. Using a system similar to the one used by USB technology in computers, they will log on to the main computer autonomously, via uniform interfaces. Finally, a virtual image of the systems will support users with quick and easy commissioning and reconfiguration, making it possible to respond as quickly and flexibly as possible to new requirements. All these functions together enhance the availability of machines and systems, while at the same time reducing the amount of time and effort required by users.

Industry 4.0 in production

Many Festo components and systems already meet the hardware and software requirements of Industry 4.0. Some are still stand-alone solutions, not yet networked to any great extent, but Prof. Post says that the next stage will be for these and similar components to be connected together in complete, networked systems.

One example of a complete, consistently networked Festo component is the CPX automation platform.

An electrical terminal for valve terminals, it not only offers an interface to the field and management control levels, but also has a diagnostic capability, and can take on condition monitoring tasks. When equipped with a fully-fledged CoDeSys controller, the CPX can be used to control a subordinate function, an entire machine or a sub-process of a system. It even has an error-location role using the safety function, so that errors can be quickly found and modules exchanged if required, to keep production flowing.

Intelligence and ice cream

Another example of intelligence and networking driving flexibility is the energy efficiency module MSE6-E2M.

This module measures the flow rates in the compressed air network, and can also instantly evaluate the information before initiating appropriate measures. Know+How Issue 27 detailed its successful use in the ice-cream production process at Unilever, where it operates like the start-stop system in a car, to detect a standby mode and automatically shut off the supply of compressed air. This reduces compressed air consumption to zero during system downtimes and breaks. It also reports back if the pressure drops too quickly during downtimes, which enables leak detection.

And it continuously delivers process relevant data such as flow, pressure and consumption, which it sends to the machine controller via Profibus.
The result is a module which pays for itself through transparency of energy use, and energy savings.

But your factory doesn't have to be producing ice cream for you to benefit from the intelligence, networking and flexibility which Festo components can offer. The increased productivity, reliability and savings will still taste sweet.
Related Posts