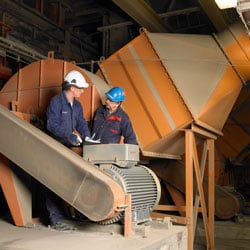 Paul Dysiewicz, Engineering Manager at SKF, explains how choosing the right components and maintenance strategies can help overcome fan failures.
Industrial fans play a key backstage role in a variety of operations, from delivering process gases to extracting dangerous fumes. But their 'behind the scenes' nature means they are often ignored. Fans are also expected to work harder than ever before, handling hotter gases and delivering higher flow rates for extended periods of time. This, inevitably, can lead to failure, but SKF has solutions that overcome five typical problems – to improve the longevity and reliability of critical fan components.
Poor Installation
Poor bearing installation is a typical challenge: misalignment causes excessive vibration, while incorrect lubricant application – too much, too little, or the wrong type – can cause early failure. Both can be avoided by installing relubrication-free bearing units such as SKF ConCentra ball and roller bearing units. These are factory-filled with long-lasting grease and protected by double seals, but the main benefit is the locking technology: two mating surfaces – with precision-engineered inclined serrations on their contact surfaces – provide a true concentric fit that is tight, accurate and reliable.
Axial Displacement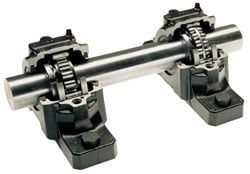 Axial displacement, can be countered by SKF's total shaft solution. A combination of self-aligning bearing, housing and seals dissipates bearing-generated heat, allowing bearings to run at lower temperature, and for longer. Self-alignment is achieved with SKF's CARB toroidal roller bearing in the non-locating bearing position and a SKF Explorer spherical roller bearing in the locating position. This eliminates induced axial loads created by thermal expansion of the shaft, and cuts friction, vibration, heat generation and power consumption by the bearing. Crucially, the lower bearing temperatures enable higher speeds. SKF applied this principle to save a customer £18,000, by fixing noisy bearings in its warehouse ventilation system. Three years later, the system is still running smoothly.
High Temperatures
Elevated temperatures can be a problem – for fans that handle hot gases, for example. These require special measures to control component operating temperatures. In grease-lubricated applications, specialist bearing housings such as the SKF SE range include reinforcement ribs to maintain the roundness of the housing bore under high loads and temperatures. The base of the housing has an increased surface area to boost heat dissipation. High temperatures may force a switch to oil lubrication, which is traditionally more expensive – with a greater need for maintenance – but features such as automatic oil levellers help maintain correct lubricant levels during operation.
Energy Management
Energy management is critical across industry: controlling bearing temperature helps fans to run faster, but controlling energy consumption will boost profits. SKF's Energy Monitoring Service can slash 20% off the energy needs of a fan through careful assessment of its vital statistics through a condition monitoring programme. Vital information such as nameplate data, fan curves – especially energy efficiency curves – and carbon emissions can be used to create a database in SKF @ptitude Inspector, which analyses the results and gives appropriate warnings on fan performance. If fan performance is significantly compromised, the next step is to identify the underlying reason – a simple enough troubleshooting task, and another way of boosting fan performance.
Maintaining Performance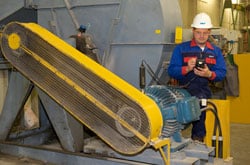 Maintenance strategy is central to improving fan performance. A fan that is critical to operations may require a full reliability-centred maintenance (RCM) approach, based on a full failure modes and effects analysis (FMEA) of the fan system to develop an appropriate condition monitoring, inspection and maintenance strategy. For a less critical fan, simpler streamlined RCM or risk-based maintenance is appropriate. RCM and FMEA are key elements in SKF's Asset Efficiency Optimisation methodology, which identifies which work tasks are needed in order to improve maintenance – and consider how best to apply these for maximum gain.
For more information on the new SKF solutions for fans, please contact your local ERIKS service centre on 0800 006 6000, or download a copy of our latest brochure below.
Related Posts: