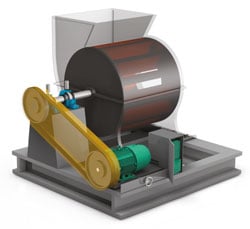 Fans are frequently found in mining and quarrying equipment. So knowing the most common issues they suffer – and how to overcome them – can help you minimise unplanned downtime and maximise equipment productivity.
Premature failure
Frustration - There's nothing more frustrating than this. The key is to find the root cause so you can prevent it happening again. In the mining and quarrying environment, dirt ingress is the most likely culprit, so the first step is to check seals.
Solution - The SKF Explorer bearing has been designed and proven to last longer in environments with high dust and dirt ingress. A Simalube automatic lubrication system can also help to reduce the likelihood of premature failure through lack of maintenance, which often happens in inaccessible locations.
Excessive noise
Frustration - This is often a sign that something more serious is wrong, and can be an early warning of failure.
Solution - Noise may be caused by poor alignment, or excessive vibration. Both need investigating by an engineer with fan know-how, before serious damage is done.
Excessive vibration
Frustration - This is an irritation – and another sign that something more serious is wrong.
Solution - Investigation by a qualified engineer will reveal the problem – potentially an out-of-balance impeller, which is in turn placing excessive strain on the bearing. Rebalancing – a service offered by ERIKS Fan Services – will eliminate the noise, reduce bearing stress, and help all components achieve their full service life. Expert advice on coupling selection could also help with absorption of shock loads and reduction of vibration.
Excessive heat or temperature change in the bearings
Frustration - An overheating fan is performing inefficiently and in danger of failing prematurely. Cross-location of the fan bearing is a common cause.
Solution - Replacing the existing bearing with an SKF CARB bearing – which has better axial displacement – will help to reduce heat generation and extend the fan's – and the bearing's – service life.
Poor access
Frustration - Maintaining or replacing a bearing is tricky if it's difficult to access. This can mean maintenance is reduced – increasing the likelihood of premature failure. It also means more downtime when maintenance, repair or replacement is required.
Solution - A Revolvo Split Roller Bearing can cut maintenance and fitting times by up to 90%. It also reduces the need for lifting equipment to remove other drive components before you can even access the bearing.
ERIKS Fan Services offers complete fan care and repair, to help you get the optimum performance out of your assets. To find out more, call 0845 006 6000, visit www.eriks.co.uk or contact your usual ERIKS Service Centre.
Related Posts: