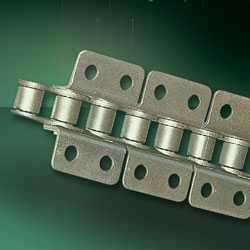 Just as one link of a chain won't do the job of a full length, producing chain which provides performance, extended service life and value for money requires a combination of factors.
One significant factor in manufacturing quality chain is experience. Fenner, for example, have over 150 years of engineering experience, and it's all brought to bear on the design, specification and manufacture of Fenner PLUS adapted chain.
What helps to set this particular adapted chain apart is that Fenner have taken a range of performance-enhancing features, and linked them all together in the optimum combination, in one product.
Made to perform
Whatever your operating environment, if you choose the right adapted chain you have the right to expect it to perform as specified for a reasonable amount of time.
Fenner PLUS adapted chain promises not just performance in hostile environments but enhanced performance – thanks to a number of performance-enhancing features.
These include solid rollers, which are manufactured specifically to achieve high surface hardness. This increases their wear resistance whatever the operating environment.
Similarly, Fenner PLUS adapted chain offers increased fatigue resistance and extended chain life, due to its shot peened plates.
And you can expect a high level of accuracy of diameter and pitch, because the chain is progressively punched.
Fenner's experience also extends to an understanding that operating conditions are sometimes far from textbook. Maintenance engineers are busy people; operators get distracted and forgetful; sometimes other things take priority. So Fenner PLUS adapted chain is designed for the real world, and will to continue to operate successfully even with irregular lubrication.
Made in more variants
There are almost as many different adapted chain requirements as there are applications. Which is why there are almost as many different chain options your can choose from, even once you've chosen Fenner PLUS.
For example, you can choose:
Carbon or stainless steel

Simplex or duplex

K or M attachments

Extended pin or hollow pin variants.
But one choice you don't have to make is between BS and American ANSI standards – because Fenner PLUS adapted chain meets both.
Made to meet your needs
Of course, the main point about adapted chain is its adaptability to your requirements. So ERIKS provide a quick and simple service to assess your adapted chain requirements and provide the solution.
The Fenner adapted chain enquiry form enables you to list all the specifications you require. Then all you have to do is pass it to your usual ERIKS contact, and it will quickly reach the engineering team for assessment.
Even allowing for numerous variations – including special plates, pin rollers or blocks, and a huge range of potential pitch sizes – ERIKS engineers are able to quickly assess and quote for your requirements. And once the quote is approved, it's a short road to the design, manufacture, assembly and delivery of the perfect Fenner PLUS adapted chain to meet your needs.
To find out more about Fenner PLUS adapted chain click the image below or contact your local ERIKS service centre.
Related Posts: