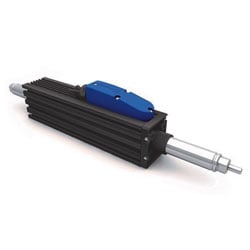 Developing tubular linear motors that allow machines to operate at increasingly higher speeds whilst maintaining pinpoint precision, using less energy and with low noise and minimal maintenance is a key focus for Dunkermotoren.
Its new ServoTube XTA25 and XTBA25 options are good examples of close working relationships with customers with the objectives of improving processes, cutting energy costs and boosting profitability.
The new ServoTube motors are designed to provide optimal solutions for linear movement, increasing the peak performance of a standard product line by between 10 and 18% (force and speed) when compared to the standard STA25 and STB25 ServoTube range. They provide a performance that is faster than a ballscrew with the clean reliability of a tubular linear motor and also are a cost-effective alternative to air cylinders in applications requiring greater flexibility and control.
The tubular linear motor incorporates an IP67 rated forcer and a sealed stainless steel thrust rod enclosing rare-earth magnets. The range comprises 16 models which deliver a continuous force range of 51-118 N with peak forces to 860N and linear speeds to 11m/s. XTA and XTB models have been designed to produce maximum peak forces and speeds compared to the STA models producing a lower, but more even force.
Related Posts