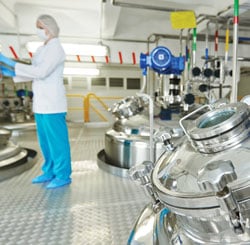 Of the many things that give maintenance engineers nightmares, at the top of the list must be component failure. Hard on its heels would be discovering the failed component is now obsolete. So good news from ERIKS about a valve that's crucial to the food and beverage industry will be a maintenance engineer's dream come true.
Every engineer working in the food and beverage sector will have encountered the Realm Butterfly Valve. Realm began manufacturing hygienic equipment such as stainless steel valves in the late 1950s, and was the first British manufacturer to introduce stainless steel hygienic butterfly valves. These valves are used for a wide range of applications within the industry, either as open/close or simple regulating valves.
For 20-30 years the Realm Butterfly Valve was one of the most widely-used in the sector, supplied to many major food producers and blue-chip companies.
However, in 2006 Realm integrated with another of leading valve specialist – Inoxpa Valves – to form Inoxpa Realm: a specialist supplier to the food, beverage and pharmaceutical industries.
Over time, many Realm products – including the butterfly valve – became obsolete. And also over time – as the valves begin to fail – maintenance engineers are beginning to find their nightmare becoming reality.
Gap in the market
The problem of the obsolescence of the Realm Butterfly Valve is only made worse by the valve's non-standard dimensions.
The valve is located between two lengths of pipework requiring a face-to-face connection. The standard gap between the two pipe ends is 50mm. However the Realm Butterfly Valve takes up 100mm.
No standard valve will fit the space. The Realm Butterfly Valve is obsolete. No replacement is available. Modification of the pipework would require a lengthy shutdown and associated loss of production and costs, not to mention the certification implications of carrying out major work on, and installing a completely new component into, a hygienic process.
Suddenly the problem of component failure becomes a crisis.
Go with the flow
ERIKS Flow Control is an Inoxpa UK partner and leading UK supplier of Inoxpa valves. But with not even Inoxpa offering a direct replacement for the Realm Butterfly Valve, ERIKS turned to the Flow Control Projects team to devise a solution.
Through ERIKS' partnership with Inoxpa, the Projects team had the design and dimensional knowledge to create a perfect like-for-like replacement for the valve.
The team also used their industry experience, expertise and know-how to develop a replacement which not only fits the non-standard gap but also meets the high standards established by the Realm valve, and maintained with all Inoxpa valves ever since.
This cost-effective and direct replacement for the Realm Butterfly Valve means that failure of the original component is no longer such a nightmare. Instead of trying to source a one-off re-engineered valve from a small manufacturer prepared to take on the task – with all the associated risks of poor quality, at who-knows-what-cost, taking who-knows-how-long to produce – maintenance engineers now have a reliable, reputable source of a high-quality valve.
Better still, the ERIKS Butterfly Valve can be manufactured with a fast turnaround when required, to meet customer needs.
Collecting Butterflies
As an Inoxpa UK supplier partner, ERIKS can also supply a wide range of other Inoxpa butterfly valves in a variety of lining materials. The choice of materials enables their use in applications ranging from non-aggressive media such as water or air, through to chemicals and corrosive media. Options include:
High Performance Butterfly Valves
Carbon steel and stainless steel from stock

Aluminium-bronze and special alloys available to order 2"-24"

ANSI 150 to 300 (other classes available)

Wafer, lugged and flanged

Firesafe certified

Double and triple offset disc

Soft and metal seated
Resilient Seated Butterfly Valves
Cast iron from stock

Carbon steel, bronze, stainless and special alloys available 2" - 60"

PN6 - PN16, ANSI versions available

Bonded and replaceable liners

Liners in Nitrile, EPDM , Viton and PTFE (others available)
For further information contact you local ERIKS UK Service Centre on 0845 006 6000.
Related Posts