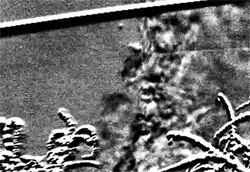 As of 9th October 2014 the EU Parliament and the Council on Industrial Emissions for the refining of mineral oil and gas have come up with a set of rules and guidelines for the monitoring and control of emissions from the production of mineral oil and gas.
Part of these guidelines refers to limiting the sources of the emissions and the 2 methods of identification mentioned are Sniffing and Optical.
"Sniffing" for gas with a hand held VOC analyser requires the user to be in close contact with a possible source and only identifies if a VOC is present.
The second recommendation is optical gas imaging. This method uses ERIKS GF320 Flir camera which can identify VOC's at a safer distance. The camera shows the VOC emission as a 'smoke', blocking most of the infrared radiation from its surroundings. The flow and movement of this smoke can pinpoint the location of the leak and its severity. This method is even recommended in the guidelines as the camera can "easily and rapidly locate significant VOC leaks.
As with all high-end equipment the secret is in the application of the technology. At ERIKS we invest heavily not only in cutting-edge technology but also in the training of all our condition monitoring technicians to ensure a top-level service is maintained and the use of OGI is not an exception. All our technicians are category 2 trained thermographers who have received addition OGI training on top of their thermal imaging training.
It is not just VOCs that this service can be used for, we have recently done several national surveys on ovens and kilns and found issues with the natural gas supply to these pieces of plant. Just as electrical thermography finds high resistance joints that will become defective connections, the issues found using OGI thermography are weeps which will be tomorrow's leaks.
The full document is available online here and it recognises that for Volatile Organic Compounds (VOCs) then Optical Gas Imaging should be at the heart of any Leak Detection and Repair Programme.
Read more on our Flir technoilogy here.
Related Posts: