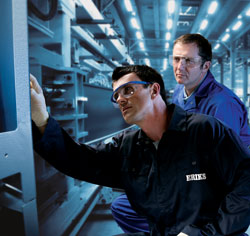 Have you started your Energy Savings Opportunity Scheme (ESOS) compliance process yet? Do you know if you have to? And do you know what it will cost you if you don't take action by 5th December 2015?
Yes, you read it right: 5th December 2015. But the good news is, that's not quite such a challenging deadline as it was. Because the Environment Agency now says, as long as you have at least started to take action to comply, you have until June 2016 to actually complete compliance before fines of up to £50,000 come into play.
But naturally, they won't just take your word for it. So before 5th December you still need to:
Check whether you have to comply and
Provide "Intent to Comply Notification"
And of course, you then have to undertake the procedure to comply by the new June deadline.
ESOS in a Nutshell
If you're not yet on board and up-to-speed with ESOS, you may have forgotten exactly what it's all about. So here's a quick reminder.
It's a scheme – administered by the Environment Agency – that makes it mandatory for organisations of a certain size (see below) to carry out an energy assessment. This doesn't mean just reading your electricity meter, but looking at all kinds of energy use in your buildings, industrial processes and transport.
The idea behind ESOS is that, once you know what energy you are using and where, you can also identify how and where you can take cost-effective energy-saving measures.
So in the short- and medium-term – like before 5th December 2015 and June 2016 – it's more work for you. But in the long-term, it could actually increase your business's energy-efficiency, and save you money.

Now, does your business need to comply?
The Compliance Criteria
To see whether or not you need to go through the ESOS process, you need to ask if your business:
Has an annual turnover of over €50 million (£38,937,777) and an annual balance sheet of over €43 million (£33,486,489) or

Is an overseas company with a UK-registered establishment with 250 or more UK employees (paying income tax in the UK).
If you answer "yes" to either or both of those criteria then you need to comply – though there are a few exceptions you can find out about here. Click for more information.

If you're not exempt and you haven't already started, you need to get going now on the first steps to ESOS compliance, before it's too late. But even though the timescale is incredibly tight, you don't need to panic. You just need to talk to someone who can help.
Your Lead Assessor
The lead assessor is an employee or external contractor you must appoint to conduct or supervise your energy audits, and to approve your overall ESOS assessment. They have to be registered members of an approved professional body.
There is a shortage of these assessors in the UK, but ERIKS has the knowledge, experience and professional membership qualifications, to be able to see your ESOS assessment through, from start to finish.
So if you want to get started as soon as possible, your first step should be to download the ERIKS ESOS First Steps form here: Click for more information. Then simply email it to esos@eriks.co.uk and we will do the rest.
Related Posts: