ERIKS has pioneered a comprehensive programming, repair and full function testing service for Elau servo motors that will reduce the risk of costly failures for end users.
The solution, which was developed by the dedicated R&D team at ERIKS Electronics division, will be of great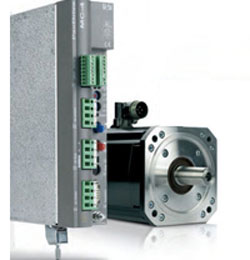 benefit to engineers working within the meat slicing and packaging machine industry where these units are a common feature.
The solution provided by ERIKS has been welcomed with open arms by engineers as Elau servo motors require specific diagnostic and repair facilities, as the commutation devices are in constant communication with the drive and cannot therefore be dynamically tested using anything other than the Elau Pac-Drive MC-4 servo controller.
Elau servo motors use a hiperface encoder; this carries an eeprom that contains the motor data that the drive utilises to run the motors in an Elau Pac-Drive system. If this eeprom is programmed incorrectly the motor will not run in the Pac-Drive system.
Following extensive reverse engineering of Elau Motors and the Elau MC-4 Pac-Drives, the ERIKS team has successfully developed the capability to programme and test these motors.