ERIKS UK are working closely with maintenance and reliability engineers within a large shipping company, specifically with their fleet of offshore diving vessels.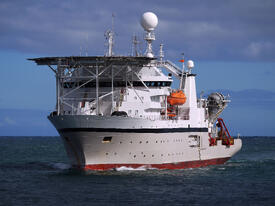 Know-How in Action
Our Condition Monitoring experts conducted a number of condition monitoring procedures across a variety of machinery. After monitoring and trending the vibration data of the main Azimuth Thrusters, a significant change in vibration amplitudes and signatures of the port side thruster gearbox were highlighted.
The analysis of the spectral and waveform data confirmed the presence of frequencies that appeared to be associated with a gear wear/misalignment issue and bearing defects. This was confirmed by calculating the gear meshing frequencies of the gearbox.
Analysis of Lube oil samples also highlighted an increase in wear particles which are associated with the gear train.
Best Practice
The early detection of faults on critical machines allowed the client to plan and schedule work at their conveni­ence. By the use of the correct condition monitoring techniques and experience, ERIKS UK helped in preventing unwanted downtime, allowing the customer to plan and schedule dockings.
If you are interested in Condition Monitoring Techniques, have a look at our services here:
You can also request your very own Marine Brochure here, to learn more about ERIKS Marine Know-How.
Related Posts: