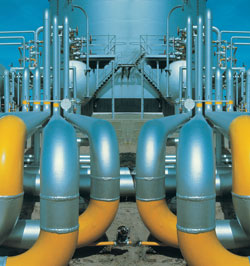 ERIKS Gasket Technology have recently provided a unique transportation solution which is ideal for the aftersales market in numerous industries…
Situation
One of the largest global suppliers of rotating equipment solutions for oil, gas, chemical, petrochemical and power industries were experiencing difficulties in the long term storage of metallic shims. The parts generally used for aftersales, transported throughout the world and were then often kept in humid conditions, causing the parts to rust, meaning they couldn't be used after.
Solution
ERIKS Gasket Technology suggested that the parts which are supplied in kit format be supplied in Volatile Corrosion Inhibitor Packaging (both backing card and the sealing film). Trials have now been carried out for over 11 months in various conditions - at room temperature, at cold and wet conditions and there have been no signs of rust.
ERIKS Gaskets Technology are now planning on rolling out this packaging to various areas of this group in the near future!
The Product
ERIKS Gasket Technology have mastered the process of creating kit assemblies for use in many industries such as boiler manufacture/repair and power and electrical utilities. In 2014 over 160,000 kits were produced.
Our installation kits have the seals, gaskets and sundries logically packed for ease of assembly, to save time and enhance the efficiency of the application build. When the engineer is assembling machinery that comprises numerous parts of many different sizes and shapes, a kit is the ideal solution. The engineer/fitter is not searching for the parts, or laboriously trying to identify the individual components. Everything is to hand and clearly labelled and visually recognisable.
Some of the benefits include:
If the volumes demand – ERIKS can supply kits that use the customers own private branding logos on the backing boards – perfect for the Aftermarket sales promotion;
If parts comprise materials that are likely to corrode and rust – ERIKS can offer Volatile Corrosion Inhibitors Packaging;
ERIKS are a recognised manufacturer of Switchgear sets, which allows for both assemblies and standard spares.
To find out more about ERIKS Gasket Technology, click here.
Download a full copy of the case study below:
Related Posts: