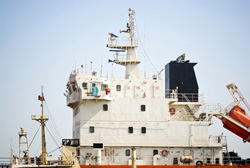 ERIKS Capabilities
ERIKS have the ability to be able to custom design and build many applications for our customers. Such as this application, where a complete drive needed to be put together to launch two exploration rigs into the water.
ERIKS received the request from a design house in Great Yarmouth, to put together a complete drive, to be installed on a trawler, which would allow the rigs to explore the Ocean floor whilst on a scientific expedition.
The two rigs were of different sizes, one was 24 tonnes and to be stowed in the Port side hold and the other was 12 tonnes to be held on the Starboard side. They would both be launched and stowed away again via a central conveyor leading to the 'Moon-Pool' launch area.
Working to tight timescales
Invaluable engineering support within a short timescale was key to getting this application completed on time. After lengthy discussions with the design house, calculations were devised by ERIKS in order to establish the torque and speed requirements of all three drives. The control solution provided by ERIKS allowed the user to operate the launch mechanism from a central control pendant, which was specially designed and produced to cater for all the customer's requirements.
ERIKS worked closely with one of their supply partners, Renold, each drive was supplied with 1½" Pitch Renold Synergy BS Transmission Chain with K1 attachments. ERIKS then selected a quadruple reduction Fenner Series C geared motor unit fitted with an integrated inverter module. In addition to the drive components, ERIKS, having the ability to supply a vast amount of products, also supplied bearings, sprockets and not forgetting chain-tensioners to ensure the drive was installed correctly and tensioned to the manufacturers specification to help achieve optimum performance and product life.
The project, under tight time constraints, needed to be supplied in just two weeks as the boat was due to sail shortly after and ERIKS understand that late departures can result in heavy fines. The launch mechanism still needed to be installed and commissioned, so ERIKS Drives experts commissioned the drives on board the ship, where they also tested for initial teething problems that could occur, to ensure the operation went smoothly.
ERIKS offer a full design, build, test and after sales support service to our customers, with the ability to work to tight time constraints to meet customer's demands as minimising layover times and late departures is key to our service and helps to save you money. To find out more order a copy of our marine brochure here