ERIKS have designed a purpose built early warning monitoring system known as the Asset Guard.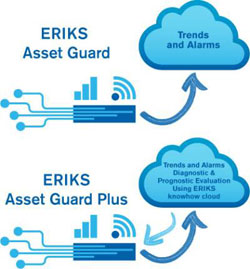 This system has been designed and built to monitor rotating equipment and components, which is particularly effective on industrial plant including gearboxes and associated equipment.
The system has been developed to support the customer by taking real time data from the equipment being monitored and sending this to ERIKS know-how Cloud for logging, the areas monitored can include thermal, vibration and oil level indication.
The ERIKS Asset Guard system, can be fitted on any and all types and styles of all industrial gearboxes and associated equipment supplied into the industry.
The data is able to be viewed on a specifically designed dashboard tailored to the individual needs of the customer and can be accessed from all web accessible devices which including – smart phones, tablets, laptops and PC's.
This easy to view data is displayed by the means of the plan view of the gearbox or equipment being monitored, the system is set up to log real time data with trending graphs which can be opened up to allow for further review of the data, covering the day/week/month and beyond.
The system also incorporates features that will despatch an alert to the customer by the means of a text, email, or both, warning of changes to the equipment that is being monitored.
The system is built on site by ERIKS and supplied pre-programmed ready to fit with a simple plug and play design this allows our system to start monitoring the equipment straightaway.
Key features:
Early warning system
Tailored solutions
Real time data to any web device
Reliable, rugged construction
Quick and simple installation
Cost effective
Custom built design dashboard
Data trending
The system can be treated as a stand alone or can be incorporated into an existing system by the means of interfacing to SCADA systems via RS485 using the standard MODBUS protocol.