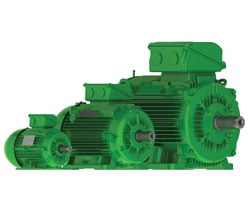 Motor failure is a nightmare made worse by the need to decide under pressure whether to repair or replace. However, your nightmare can be resolved by the dream team of ERIKS and WEG.
ERIKS' Total Cost of Ownership online calculator helps you decide between repair and replacement. Then you can rely on ERIKS for a full repair capability, or on WEG for a cost-effective replacement.
WEG can custom-make a motor (including MV & HV high-output designs) to fit exactly in place of the original, and design and manufacture the new motor as a direct "drop in replacement" for you application including shaft design, mechanically identical and electrically matched to your original performance requirements to suit your application and existing drive train and starters.
Once your motor is installed – or repaired and running again – ERIKS can provide whole-life management to lower your total cost of ownership.
For example, Asset Guard predictive maintenance could increase your productivity by 15%, by eliminating costly downtime.
From technical support and evaluation to design advice and execution, and from removal to installation and commissioning, ERIKS and WEG together make motors drive productivity.
Related Posts