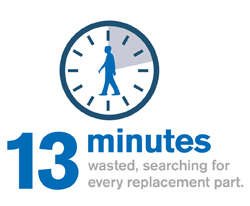 With engineering skills becomingly an increasingly scarce resource it is important that an engineer's time is spent on core tasks. Unfortunately, too many are still spending valuable time sourcing spares.
When engineers can't find parts in their engineering stores this can be costly for the business in terms of lost time and can account for up to 40% of their day. This could be a result of not having a stores management system in place; perhaps there is a system there but it is not well organised or even properly used. If there's no part numbering, or if the stores are untidy, even a bit of a dumping ground, all this adds up to lost time for your engineering and maintenance teams.
Are your stores efficient or just a part's dumping ground?
Today, there are many new options available from the simple to the high tech such as vending technology to provide parts at the point of use and when you've see seen engineers walking from one end of the plant to the other to get a bolt and then walking all the way back to fit it onto a machine you can begin to see why things are changing. This not only wastes engineering time but also results in engineers trying to hoard spares in close proximities such as toolboxes.
Often this hoarding of parts creates another issue, namely obsolescence. It is not uncommon to find in stores old and out of date spares for drives, pumps and other equipment which no longer have any practical value and are merely taking up valuable space. In fact, our research suggests that circa 10% of storage costs are tied up in obsolete items.
Finally when parts cannot be found in a disorganised stores means that the part required is ordered again for ease. Not only does this create duplication but has a large impact on your MRO spend.
How can engineers spend more time engineering?
In MRO, it is extraordinarily difficult to answer these questions because it is impossible to know what is going to break down and when. The forward scheduling of products in MRO is exceptionally difficult, unless there is a refurbishment planned, in which case the engineers know exactly what they want.
Addressing these issues can be challenging but it's something we done for many companies and starts with a simple review of what you do at the moment (we call it Quick Scan) and you've made your first steps to releasing your engineers time to do what they should be doing, keeping your factory working.
Want to know more? Click here for more reading on onsite solutions or download the simple infographic on 5 small things that will make a difference to your MRO bottom line below.