ESOS (the Energy Saving Opportunity Scheme) is a new piece of UK Legislation designed to meet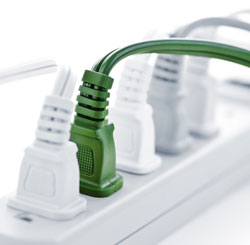 article 8 of the EU Energy Efficiency Directive, and in contrast to the perception of environmental legislation actually presents a significant opportunity for businesses to reduce consumption and costs by adopting energy efficiency measures.
ESOS requires participants to undertake mandatory assessments of their energy use and identify opportunities for energy efficiency at least once every four years. There is no obligation on participants to implement any recommended efficiency measures, rather the hope is that the short payback periods and visible benefits will speak for themselves resulting in a high level of efficiency measure implementation.
According to the government UK businesses could benefit by up to £1.6 billion if participants in the scheme make a, very conservative, saving of just 0.7%.
In addition to directly reducing the costs of a business, energy efficiency increases productivity, profitability and competitiveness. The ESOS scheme, in addition to directly benefiting participants, aims to drive energy efficiency (often considered the poor relation in terms of our nation's energy policy) for demand reduction and greater security in addition to creating jobs and UK growth.
Who is affected?
ESOS applies to large undertakings; that is, a business that employs at least 250 people, or has an annual turnover of more than 50 million Euros with an annual balance sheet total in excess of 43 million Euros.
When does ESOS have to be done by?
All qualifying organisations have to carry out their ESOS assessment and notify the Environment Agency by 5th December 2015, and every four years thereafter.
How to comply
Organisations fully covered by ISO 500001 do not need to comply with ESOS, however organisations only partly covered by ISO 500001 will still need to comply with ESOS.
In order to comply organisations must;
Calculate total energy consumption over a 12 month period
Identify areas of significant energy consumption
Appoint a lead assessor to carry out and review your energy audits and overall ESOS assessment (assessors can be from an external consultant or can be employed by the qualifying organisation, however they need to apply to the Environment agency to meet PAS 51215:2014)
Notify the Environment Agency
Keep records of how you are complying with ESOS
Penalties for non-compliance will be calculated by the Environment Agency and are expected to be significant.
How can we help?
ERIKS UK can help you realise the benefits of energy efficiency with innovative solutions across a broad range of products and services; from motor and pump efficiency to thermal imaging and condition monitoring from our Planet+ initiative and from process improvement to positive behaviour change and communication with The Blue Planet Challenge, simply get in touch to start saving today.
For more information on ESOS and how it may affect your organisation please visit https://www.gov.uk
For more information on how ERIKS UK can help your productivity and profitability please visit www.eriks.co.uk or for information on behaviour change visit
More from the Blu Effect:
More about EU legislation: