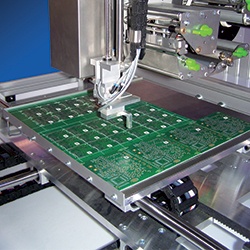 In Smart Manufacturing machines and systems generate, analyse and use data to optimise production efficiency, create flexible manufacturing processes and respond quickly at low cost to changes in demand. An Industry 4.0 Smart Factory employs only systems that are interconnected and able to send or receive data from the other systems in the supply chain.
Every Circuit Board Can Generate Data
Via durable product labels that remain legible throughout entire production cycles, applied by accurate, automated print & apply systems, Brady can connect every circuit board in production to your Smart Factory. With our solution, every circuit board you produce can become a data generator to send information to your Manufacturing Execution System, to other machines and production cycles, or to your supply chain both up- and downstream.
Label your printed circuit boards

Accurate tracking of raw materials and finished goods throughout production processes can increase production efficiency, open up new markets and attract more customers by enabling a number of competitive advantages:
Increased product quality control & safety

Increased reputation & brand protection

Reduced counterfeit components & product recalls


Reduced production process & warranty costs

Legal & regulatory compliance

Automate your labelling

A fully automated printed circuitboard labelling solution can activate the competitive advantages of Smart Manufacturing:

Increased workplace efficiency


More data analysis for continuous improvement with i

ncreased data accuracy

Faster problem intervention &

product batch localisation

Aligned raw material intake and machine operating parameters


Their offer
Brady offers a reliable and complete solution to automate printed circuit board labelling in order to enable Smart Manufacturing. Our solution includes these components:

Durable auto-apply labels

Reliable auto-apply systems

Custom support including setup, maintenance and parts

Extensive label testing in in-house laboratories


Want to know more? Contact your local service centre on 0845 006 600. Or if you're attending the ERIKS Innovation Excellence event at the MTC, Coventry, 3rd October 2017, visit the Brady Stand.
Related Posts