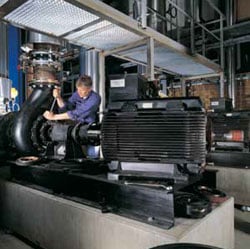 When it comes to pump selection there are a number of factors you need to consider, and by no means least the selection of supplier you can trust to do the job. That's where Grundfos come in.
Whilst they have a full range of pumps for any application, their end-suction pumps are multi-purpose pumps suitable for a variety of different applications demanding reliable and cost-efficient supply and are useful for a number of key applications such as:
Water supply
Industrial pressure boosting
Industrial liquid transfer
Heating/district heating
Air-conditioning
Irrigation
Unsurpassed Performance
The range comprises of a full series of close-coupled and long-coupled pumps, in both stainless steel and cast iron options. They are designed to dependably and efficiently deliver high flow rates at low to medium pressures and are all manufactured in ISO 9001 facilities, and compliant with DIN EN733 and ISO2858. However whatever pump you choose they all have the following features:
10, 16, 25 and 40 bar flange availability, for EN733 and ISO2858 designated applications
O-ring seal between pump housing and cover, no risk of leakage
Optimised pump hydraulics, EuP Directive 2009/125/EC (MEI) ready
All stainless steel shaft design, improved corrosion resistance
Grundfos Blueflux® motor technology, high efficiency IE3/IE4 fixed speed or IE3/IE4 equivalent variable speed motors (IE3 equivalent over 3kW, IE4 equivalent up to 2.2kW) as standard ATEX certification (Zone 1, 2, 21, 22) available to enable use in areas at risk from explosive atmospheres (except "E" models)
Ease of Maintenance
Whilst you want installation to be relatively simple, the maintenance of the pumps in the future needs to be easy, time efficient with little cost implications for the engineers. Each of the end suction pumps has a back pull out design to facilitate the removal of the motor, coupling, bearing bracket and impeller without disturbing the pump housing or pipework. What this means for you is a simplified maintenance process for even the largest of pumps.
Fast Track Delivery
When you require an urgent replacement, we understand just how important fast delivery is and the impact long lead times have on your business. You can have a pump from the Grundfos Cast Iron range of end suction pumps in as little as 24 hours.
For all pump sizes up to and including NB/NK 125-315 (NBG/NKG 150-125-315) Grundfos MG (IE3), Siemens motors (IE3 and IE4): 2pole 30-55kW, 4 pole 18.5-55kW and standard bearing bracket (NK/NKG) or heavy duty bearing bracket (NKG only) delivery is guaranteed within 4 – 8 weeks.
For more information download a copy of the Grundfos brochure here.
Related Posts