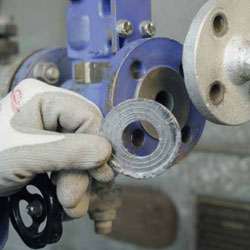 Introducing the first graphite gasket that is easy to remove from the flange - with XP Technology. This latest innovation of gaskets is available from ERIKS' Flow Technology Division and is designed to reduce your maintenance costs and increase plant reliability.
In addition to offering quality own brands such as the RX range of gaskets, ERIKS Flow Technology stocks market leading brands such as Frenzelit. And it's Frenzelit who have launched a new generation of gaskets featuring "Extended Performance" – or XP – technology.
The XP range offers a number of advantages particularly interesting for the chemicals sector, but also attractive for any industry where more stable sealing, longer gasket life, and quicker and easier fitting are important. Or in other words, almost any industry sector!
The Longer-Lasting Seal
What makes Frenzelit XP gaskets deliver their Extended Performance is a special process technology applied to standard high-quality graphite gaskets, which are manufactured from expanded metal-reinforced graphite.
The special processes involve inorganic deep passivation of the pure graphite, on the basis of nanotechnology, which significantly enhances performance in several areas.
Graphite has a fundamental tendency to oxidise, which leads to loss of mass and weakens any seal the gasket provides. This usually results in a maximum application temperature of 550°C, though in some cases oxidation mass losses can be measured from as low as 450°C. However, the deep passivation of the graphite through the specially developed new XP process either slows down reaction with ambient oxygen and any other oxidising medium, or defers it until a higher temperature is reached.
"The first graphite gasket that is easy to remove from the flange"
The result is prevention of unavoidable mass loss to a temperature 150°C higher than with a standard graphite gasket – which means a more stable seal, for longer.
Non-stick...
Even though non-stick coatings are used on standard graphite gaskets, they tend to be based on organic substances such as resins, which decompose at temperatures above 200°C, allowing the gasket to adhere to the sealing surface.
This means that when a gasket is removed for replacement there's some residue left behind. Investigations have shown that leakage problems can be caused by as little as 0.1mm thickness of residue, because the new gasket can't create a fully-effective seal as a result. When the gasket in question is fitted in a tongue-and-groove flange connection, removing all traces of residue is even more of a challenge.
However, XP gaskets maintain their non-stick properties over the whole application temperature of a graphite gasket, and in contact with all the typical media which require sealing.
Even on bare sealing surfaces, old XP gaskets can be removed without leaving any residue at all.
…that sticks at it
The exceptional properties of the XP gaskets ensure they do the same job as conventional graphite or fibre gaskets for longer, and with more stability and less leakage, at higher temperatures. And when they do need replacing, they leave no residue, so maintenance time and cost are reduced.
A small chemical plant in Germany was using 4,000 graphite gaskets per annum. They were also paying maintenance staff an hourly rate of €50.
By changing to XP gaskets, they reduced or eliminated cleaning when replacing gaskets, which saved 3 minutes per flange. A calculation of 4,000 savings of 3 minutes adds up to no less than 200 man-hours, which at €50 an hour represents an annual maintenance cost saving of €10,000.
The Finishing Touch
There are four Frenzelit gaskets available with XP finishing:
Novaphit® SSTC / XP

Novaphit® SSTCTA-L / XP

Novaphit® MST / XP

Novatec® PREMIUM XP.
The first three options are all graphite gasket sheets, which in the case of the SSTC / XP and SSTCTA-L / XP have an expanded metal insert. The SSTCTA-L / XP and MST / XP both comply with German TA Luft air pollution regulations. In addition, the MST / XP, has a multilayer structure rather than an insert.
The fourth option – the novatec® PREMIUM XP – is an all-round gasket manufactured from a combination of aramid fibres and graphite. The combination enables it to perform far beyond the parameters of a conventional fibre gasket, not only providing substantial leakage reduction, but also excellent residual stress and media resistance, and an increase in application temperature range to around 300°C.
novaphit® XP gaskets are ideal for waste water treatment plants within chemical plants, whilst both novaphit® XP and novatec® XP are suitable for applications such as chemical plant filter systems, exhaust systems and pipe systems, general apparatus and much more.
ERIKS' XPertise
With decades of experience in the chemicals sector, ERIKS Flow Technology Division can meet all your gasket needs, on time and within budget. Expert engineers are available to visit your site and identify areas for efficiency improvements, and cost-savings. And of course the complete Frenzelit XP range is available from stock with fast delivery.
To find out more about Frenzelit XP Gaskets, click here

Related Posts: