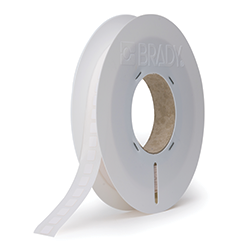 When you've made the decision to use automated labelling in your plant to support your smart manufacturing realisation, you need to select an appropriate label for your needs.
The B-7727 polyimide printed circuit board label from Brady is specifically designed for auto-apply applications. Brady's specially designed APL (Auto Apply Label) range has a reduced liner width and works with a smaller ribbon for ultra-compatibility with auto-apply systems.
B-7727 can withstand temperatures up to 300°C and the powerful chemicals and cleaning processes used in PCB assembly, equipment and component manufacturing.
In summary, the B-7727 printed circuit board label offers:

Outstanding auto-apply compatibility thanks to a reduced liner width

Great placement accuracy and high pick-up rate

Reduced risk of adhesive bleeding

Extreme washing/aggressive cleaning applications

Top or bottom label placement

Surface mount and through-hole assembly

High heat (300°C) resistance

Great legibility, even after exposure to chemicals

Good performance in reflow, wave solder and board washing

Abrasion resistance


Printability on-site or available as pre-printed labels on request
Want to know more? Contact your local service centre on 0845 006 600. Or if you're attending the ERIKS Innovation Excellence event at the MTC, Coventry, 3rd October 2017, visit the Brady Stand.
Related Posts