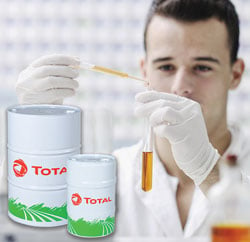 Do you choose your lubricants and coolants on price or performance? If you think buying cheaper saves you money, then Total would like you to think about what those cheaper oils are really costing you.
Today's high quality hydraulic oils do much more than simply lubricate. They also aid fuel efficiency, extend component life, and even reduce environmental impacts. The flipside is that lower-quality oils with a lower price tag can reduce fuel efficiency, shorten component life, and do absolutely nothing for the environment. Which means that in the longer term, those short-term savings on the purchase price are easily wiped out.
Choosing cheaper coolants can also have disastrous effects on your equipment and your bottom line. So what should you be doing to make sure the lubricants you choose for your mining and quarrying static equipment really do make everything run more smoothly?
Choose more protection
Hydraulic oil from the Total Biohydran family can protect your equipment and the environment. Biohydran TMP, for example, contains biodegradable synthetic esters, but its improved environmental performance doesn't mean poorer performance in your equipment. It has a working temperature range from -20°C to 80°C, mixes well with mineral oils, and provides good protection against wear and corrosion.
For operating temperatures above 80°C, Biohydran SE has saturated synthetic esters with high thermal stability, compatible with elastomers.
Both these Total Biohydran lubricants carry an EU Ecolabel certifying they reduce the risk of environmental contamination and damage should a leak occur. As hydraulic failure is the leading cause of leaks, that's an important benefit. Also from the Total hydraulic oils range, Hydroflo CT contains a blue dye which makes leaks easier to detect. This is a highpressure Poclain hydraulic oil, with good extended drain intervals.
Fire-resistant hydraulic grades are also available, in the Hydransafe range.
Family breakdown
A breakdown of the other hydraulic oil families available from Total reveals a wide range to meet all your requirements.
The Azolla family of mineral hydraulic oils includes Azolla ZS (zinc stable) for general purpose applications; Azolla AF (ash-free) with good filterability, high thermal stability and good anti-wear performance; and Azolla DZF (ash-free with good detergency) to absorb water in hydraulic systems and provide good Extreme Pressure properties.
The Total Equivis family comprises two high-viscosity index versions of Azolla oils.
Equivis ZS (equivalent to Azolla ZS) has extra additives offering high- and low- temperature properties. Equivis AF is equivalent to Azolla AF. In addition, Equivis XLT is a very high-viscosity index oil designed to work down to -40°C. And lastly, Equivis HE is an energy-saving oil which has been shown1 to deliver fuel savings of up to 5% compared with hydraulic HM.
Losing concentration
Coolants for static equipment are another area where buying cheap can cost you dear.
Concentrates are cheaper, but rely on the end-user to dilute them. Best Practice demands the use of deionised water to remove hard water chemicals, otherwise reaction with the coolant will lead to deposits blocking the heat transfer tubes and premature failure.
Total's Coolelf Supra eliminates error by being pre-diluted with deionised water at the correct concentration for optimum performance. Being an Organic Antifreeze Technology (OAT) product it also gives the advantage of reducing or eliminating deposits and keeps the system clean – enabling effective heat transfer and extended system life.
Glacelf Supra Organic Antifreeze Technology concentrate is also available from Total.
Impressive in compressors
Total's family of UK-manufactured compressor lubricants offers a choice of oils with long drain intervals.
Dacnis mineral oil is for reciprocating and rotary air compressors with drain intervals of up to 2,000 hours. Dacnis LD is a hydrocracked oil for use in reciprocating and screw air compressors, with a drain interval of up to 4,000 hours. Lastly, Dacnis SH is a synthetic PAO for rotary screw compressors with an oil drain interval of up to 8,000 hours.
With such a large range to choose from, Total really does offer a comprehensive solution to your lubricant and coolant requirements. All you have to remember is that with cheaper products, the price tag only shows you the price – not the ultimate cost.
1. Excavator field trial performed by Evonik Industries
Related Posts