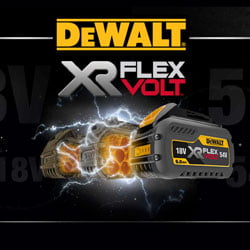 Cordless power tools have always been a compromise between cordless convenience and mains power. Do you want tools that work anywhere – until their battery power runs out – or do you want unlimited power, but only as far as the power cord will reach?
Now you don't have to choose. DeWalt® claim to have changed the game, with the launch of the DeWalt® XR FLEXVOLT battery pack.
The world's first 18/54V convertible battery pack, the XR FLEXVOLT means power tool users no longer have to choose restricted movement with a cable or reduced power with a battery. Now they can have all the power they need to work anywhere they want.
And the power boost isn't limited just to smaller tools. At the same time as introducing the new power source, DeWalt have launched a new range of eight XR FLEXVOLT heavy duty construction power tools, which they say will completely transform the jobsite of tomorrow.
World first. World beater.
The breakthrough that DeWalt have achieved is the world's first convertible 18/54V battery.
If you already work with DeWalt 18V tools, the XR FLEXVOLT battery will make you feel as if you've invested in a whole new set – because it delivers a world-beating runtime that makes cordless more convenient and practical than ever. But it does more.
The new power pack is also suitable for use with bigger construction power tools: automatically changing its voltage when you change tools – to a never before possible 54V.
Switch over. Step up.
The backwards compatibility of the DeWalt XR FLEXVOLT makes it a highly cost-effective purchase. But it's made even more valuable through its dual-voltage capability.
When the voltage automatically switches to the higher level, it gives the XR FLEXVOLT the power needed to drive the wide choice of cordless, heavy-duty construction tools in the new DeWalt XR FLEXVOLT range. And the faster application speed also means that despite the higher voltage, there's less energy used overall, which means an improved runtime even on heavy-duty applications.
The eight 54V products in the range are a:
Grinder

SDS plus Hammer

Circular Saw

Alligator Saw

Reciprocating Saw

Plunge Saw

Table Saw and

216mm Mitre Saw.
And the high-quality, rugged engineering that you expect from DeWalt, combined with the revolutionary DeWalt XR FLEXVOLT power source, means they have all the convenience of cordless tools, combined with the reliability and durability required for heavy-duty construction use.
One-charge wonder
A closer look at just one tool in the new DeWalt XR FLEXVOLT range shows just how much you can do with 54V of power.
The XR FLEXVOLT Table Saw can cut up to 50m of 19mm (3/4") OSB with just one charge of the battery. Despite its feature-packed specification – including 210 x 30mm blade, fence with rack and pinion adjustment, 610mm rip capacity, and airlock compatible dust extraction – it's still completely portable from room to room. And of course, wherever you take it, there's no need to search for a power socket.
See it in action for yourself.
In the words of DeWalt, with the new XR FLEXVOLT battery pack and power tools range, you can have "the power of corded, with the freedom of cordless."
Whether you want to give your existing 18V DeWalt tools a longer runtime per charge, or you want heavy-duty tools with 54V cordless convenience, the DeWalt XR FLEXVOLT has the power to meet your needs. To find out more, contact your local ERIKS Service Centre. Or download a copy of the latest brochure below.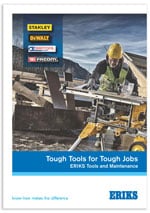 Related Posts