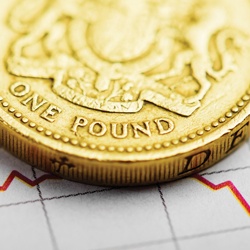 Much has been made in recent weeks of the devaluation of sterling and its impact on the UK's export activity.
To some, it is a long-overdue rebalancing after years of overvaluation. Certainly the 25 per cent drop in the value of the pound will, in theory, help exports, which have been particularly hampered by the 'strong pound', in recent years.
However, devaluation is a double-edged sword. The most obvious downside is that our foreign holidays, cars and other goods, imported from abroad, will inevitably increase in price.
The 'Marmite War' between Tesco and Unilever over a 10 per cent increase in the price of a jar of yeast extract, is potentially a forerunner of the higher retail prices that the British public may have to get used to, in a post-Brexit world.
However, there is another reason why the jury must still be out on whether the devaluation of sterling will provide the export boost many have predicted.
Adam Smith, the 18th Century Scottish economist, was inspired to write his greatest book, The Wealth of Nations, whilst watching the trading ships coming in and going out of Kirkcaldy docks, reaching the conclusion that commercial free trade was a necessary precursor to the generation of wealth and economic success.
Nowhere has the impact of globalisation and free trade been felt more profoundly than in the manufacturing sector. The UK's car industry for example sits at the centre of a global manufacturing supply chain that uses more than 20,000 parts for each individual car, imported into the UK from the Eurozone, Korea, China, Japan and beyond.
Inevitably, the devaluation of sterling will drive up the cost of these components. Whilst devaluation may mean that car buyers in France and Germany get more for their Euros when buying UK-built cars, it is highly likely that this benefit will be offset by the increased cost of the components that go into the finished vehicle. Ditto washing machines, dishwashers, boilers and pumps, to name but a few of our UK-manufactured goods.
Almost all the experts agree that the rebalancing of sterling was necessary, but it is still far too early to say whether it will have the impact on our exports that many people predict.
Related Posts