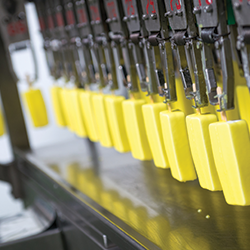 In tough working environments like the food processing sector, pumping delicate viscous fluids – that contain solids, is a day-to day occurrence. When it comes to specifying equipment therefore, it's imperative that businesses specify products that are not only fit for purpose, ensuring the quality of the finished product – but also maintain impeccable hygiene standards. Here Paul Winnett at Xylem talks through the importance of choosing the right pump solution and some of the key features to look out for.
As with most manufacturing sectors, the food and beverage industry has a number of issues to bear, not least in its continuing commitment to stringent hygiene standards but also to ensuring the continued efficiency of their plant. In turn, the pump industry and wider markets have continued to evolve their products in line with the changing demands and now offer a plethora of potential solutions to meet industry needs.
In fact, the food and beverage industry uses a wide range of plant and equipment to keep operations running, and yet one of the biggest causes of fluid handling issues is the incorrect specification of a pump system. First and foremost, it is imperative to understand the medium to be pumped – a liquid for example will require a different solution to the passage of large solids, and so too the requirements for a liquid with solids differs dramatically.
If we take milk products as an example, in its base form it is a liquid, and therefore the pump requirement will be for a liquid based pump. If making ice cream however, the viscosity of the product is much higher and you would require a pump suited to this increased need - a lobe pump being an ideal solution.

Once the type of pump has been identified, there are a number of other factors that need to be considered, not least the installed kilo wattage of the specified pump. This is an important factor and must be considered in accordance with pipe size and also the flow-rate required. Where a pump is incorrectly specified, flow can be affected dramatically leading to blockages but also if pumped too quickly, can cause air to be pumped into the product. In some instances this may not pose too much of an issue, but in some applications the additional air can damage the product and even make it split. Along a similar vein, it's important to consider whether a pulsation-free flow is required, as this can also affect the end product.

Another key consideration in the specification of pumps for hygienic environments, should be the simplicity of maintenance and crucially, the ability to break the pump down in order to clean it. In a vast number of food and beverage applications, there is a requirement for pumps to be cleaned in place (CIP), but not all pumps offer this capability, so it is important to check.
For food and beverage applications, stainless steel is the preferred material of choice, offering protection against corrosion and, if maintained correctly can help ensure good hygiene standards are met and maintained.

Effective cleaning is key to ensuring the integrity of stainless steel and to also prevent corrosion, as well of course to maintaining hygiene standards. Consider therefore products with easy maintenance features such as flush fittings to avoid stagnant product build-up, easily accessible components – that offer minimal disruption to production and ideally those with a small number of moving parts – making the strip down process much easier for thorough cleaning.

Xylem's Jabsco range of rotary lobe pumps, are ideally suited to the requirements of the food and beverage industry, incorporating the latest in hygienic design concepts in order to fulfil customer demand for improved cleanability and hygiene solutions.

Featuring a 316 stainless steel design and choices of bi-wing or tri-lobe rotor, the Hy~line+ range of pumps are designed specifically for the food and beverage sector. Flush rotor fixing screws are sealed to prevent product ingress and shaft seals are front mounted to allow for easy replacement and full accessibility of CIP liquids. In addition, the front loaded single shaft seals are fully accessible from the front of the pump, without the need to disturb the process pipework – ensuring minimal maintenance. The pump also features high specification taper roller bearings, offering over one million hours of life on a typical duty.

Another key attribute of the Hy~line+ is the fully interchangeable bi-wing rotors, which can be fitted without the need to re-time, reducing downtime on site and allowing the pumps to cope with a higher level of abuse. For the Hy-line+ modularity remains a key feature and is offered in three modules; vertical and horizontal foot kits, port kits and the pump module.

When it comes to specifying solutions for tough working environments, like the food and beverage industry, it is important to have the full facts in hand before you begin the specification process. In a sector where hygiene is of the utmost importance, technology can and does offer a helping hand to businesses, but cannot work in isolation. If incorrectly specified, the best pump in the world simply won't deliver – just as when systems are not correctly maintained and cleaned, there is a real risk of a breach in hygiene standards.

Through a better understanding of application needs and the products available to meet these requirements, it is hoped that businesses will continue to reap the benefits of pump manufacturers' vast experience in this market.
Related Posts