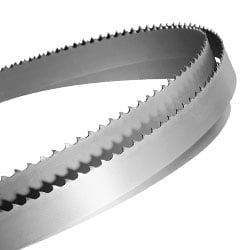 Next time you need a bandsaw blade of almost any kind, no-one looks sharper than L. S. Starrett. As an ERIKS supplier and preferred partner, Starrett can have a new blade manufactured and delivered direct to your site in just 24-48 hours.
Having been manufacturing blades since 1880 Starrett offer a huge choice, ranging from bimetal, diamond grit, carbon and carbide-tipped, to blades for wood cutting and meat cutting, and band knives for foam, rubber, soft plastics, cardboard, paper and cork.
Their extensive manufacturing experience is reflected in continuing innovation, with technologists continually developing new combinations of materials and new teeth patterns, to meet customers' specific cutting needs.
Manufactured to ISO 9001, and supported on-site if required by bandsaw experts, Starrett bandsaws are available from ERIKS at competitive prices, with a low minimum order value for carriage-paid delivery.
Related Posts