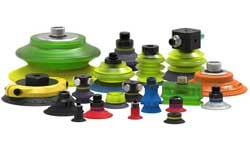 If you need to source suction cups for any application in any industry, you don't need to look any further than Piab. From the smallest plastic parts to the largest sheets of metal, there's almost certain to be a Piab suction cup to handle it.
And if there isn't, the company's expert design team will engineer one for the task.
You'll find Piab suction cups in any industry where vacuum-based automation is part of the production process.
Manufacturers who work with the tiniest moulded plastic parts rely on Piab cups to hold them, and – at the opposite end of the scale – aircraft manufacturers use Piab cups to hold large sheets of metal. In-between, Piab cups are available that are gentle enough to handle glass screens for electronic devices without damaging them.
They key to the versatility of Piab suction cups lies in the specially-developed material they're made from.
Specially developed material
To enable them to handle all types of materials and to maintain a suction grip on all kinds of surfaces, suction cups need firm bellows and soft, flexible lips.
The lips of Piab suction cups are made from a specially-developed material called DURAFLEX®. This matches the elasticity of rubber for comprehensive gripping qualities, meaning a Piab cup can be configured to provide excellent hold even if the surface to be held is:
Uneven

Porous

Flat

Potentially slippery
DURAFLEX® also offers the same wear resistance as polyurethane. Combined with the material's durability and elastic memory, this helps to give the cups a longer lifespan.
Lastly, Piab cups are suitable for use with painted items or items where marking would be a problem, as DURAFLEX® is mark-free, and contains no Paint Wetting Impairment Substances.
Optimising productivity
Piab suction cups are effective in so many applications, they can actually help to optimise productivity and reduce costs.
For example, they enable high-speed unloading of parts with textured or rough surfaces, such as moulded plastic parts, and parts made of cured, composite materials. The faster you can unload, the faster you can run your production.
They also withstand high temperatures. So if your process involves injection moulding or curing, you can use Piab cups to move items without lengthy hold-ups or interruptions to your production process while you wait for the items to cool down.
When highly precise parts placement is required, Piab cups can also hold their own. Their superior stability means they can be used effectively in holding or clamping fixtures, and your parts will be placed right where you want them. This has the multiple advantages of:
Improving the quality of your finished product

Reducing scrappage and wastage

Increasing productivity

Reducing costs.
Flexibility from start to finish
Because of the flexibility and nimbleness of Piab friction cups – whatever their shape or size – you'll no longer need expensive, cumbersome spring brackets or plungers, on ejectors or robot end-of-arm tools. This helps to make installations simpler and also – as a result – less expensive.
At the same time, the flexibility of Piab cup design means you will always have the ideal cup for your application. If an off-the-shelf model doesn't exist to suit your needs, there's a highly experienced and highly skilled Piab design team waiting, ready to engineer customer-made suction cups for a reliable, stable, non-marking hold, on any material and any type of surface.
You already have enough on your plate without searching far and wide for cups. So be an efficient sourcer and choose Piab.
Related Posts