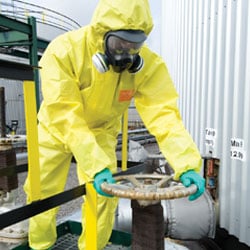 If there's a safety issue at your site, the last thing you'd do is try to cover it up, isn't it? But sometimes, that's the best way to resolve it.
Of course we're not talking about keeping secrets from the H&SE. We're talking about keeping your workforce protected by keeping them covered up with protective clothing. And it's not just in obviously hazardous environments that providing protection is best practice.
From something as innocuous as paint or grease, to clearly dangerous chemicals, blood-borne pathogens and asbestos, there are numerous substances which can be accidentally splashed, spilt or sprayed during a normal working day.
And from the automotive industry to agriculture, from metal fabrication to mining, to the question "how can we protect employees", there's a throwaway answer.
They've got you covered
Disposable coveralls are a simple but effective way of protecting employees against dirty or hazardous substances. Choose the right ones and, despite their disposability, they'll provide protection to all the relevant standards.
Chemical protective clothing works in two ways: protecting against permeation and penetration. However chemically resistant the material is, if it's torn, cut, punctured or damaged in some other way, the wearer won't be fully protected. So it also needs to resist abrasion and tearing, and should have a high level of tensile strength.
The construction of the clothing also needs to be considered, with seams and zips offering potential weak spots where chemicals or other substances could get through.
That's why it's important to choose PPE which meets accepted standards.
Ansell Microgard disposable coveralls, for example:
Are certified to the European Norms specified in Category III of the PPE Directive for chemical protective clothing

Meet or exceed the requirements of the European PPE Directive 89/686/EEC for chemical protective clothing

Meet or exceed the requirements of the guidelines on chemical protective clothing from the American Society for Testing and Materials, the American National Standards Institute, the Japanese Industrial Standards Institute and the Korean Occupational Safety and Health Association.
But effective protection isn't the end of the story.
Slip into something comfortable
Even the most effective personal protection equipment (PPE) will fail every time if it's in a locker when it should be being worn. Yet sometimes employees will ignore the risks in favour of being comfortable and unrestricted as they work.
That's why the best manufacturers of PPE consider not only the hazards they're protecting against, but also the comfort of the people the protection is for.
If they're going to go about their jobs as easily, effectively and comfortably as when they're not wearing PPE, the equipment needs to be:
Flexible

Lightweight

Thermally insulated (to prevent overheating and overcooling)

Breathable
Choosing to be safe
If you've identified areas at your site where disposable coveralls would be effective, how do you know the right ones to choose for the correct level of protection against the substances involved?
Ansell – manufacturers of the Microgard range of disposable coveralls – provide an
where you can find permeation resistance information for over 250 chemicals, and cross-reference it to the level of protection required. Alternatively, to help you select the most suitable PPE for your specific working environment or process contact your local
.
Related Posts