With the proliferation of counterfeit bearings in the marketplace rather worryingly on the rise, how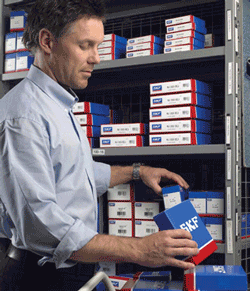 do you know you won't be the next victim?
Counterfeit bearings may look like the real thing and they may be the cheaper option, but the only thing you can really be sure of is that they will fail sooner rather than later, making them more expensive in the long-run.
So what are the real perils we potentially face if using counterfeit bearings? Read on to find out whether it is worth taking the risk:
Cost
Counterfeit bearings tend to be good copies of quality ones in terms of looks which may cause confusion in the beginning leading to the question:
"Why should I spend more money when I can buy a cheaper bearing which looks exactly the same?"
The answer to this question is simple: Don't Risk It! Counterfeit bearings can degrade and fail quickly, usually leading to unnecessary downtime. But in some more serious cases can cause shutdowns, accidents and even loss of human life.
Don't risk your business or your key assets – your employees!
Damage
Moreover, the failing of a counterfeit part can potentially cause damage to other parts of the machine leading to additional costs, imagine needing to replace or repair not only the bearing which failed but other components which have been affected by its inferior performance. Usually, this happens because counterfeit bearings are made of cheaper, poorer quality materials, they also lack important features which impacts on their lifecycle and operational performance. They also pose a potential threat to those working with them.
Quality
Quality bearings from authorised manufacturers have been developed over years and tested under the most challenging conditions. With today's machinery designed to operate efficiently at higher speeds and loads, poor quality counterfeit bearings will just not stand the test of time in the modern day environment. What's more is you cannot be assured of the warranty and the traceability of the component.
Impact on Productivity
Last, but not least, counterfeit bearings can affect the quality of productivity. When a machine is down due to damaged or broken components, this can result in either the slowing down of operation or its complete cessation leading to significant cost implications.
With all these factors taken into account, quality is imperative. Buying your bearings from an authorised supplier provides you with not only a high quality component but with the safety and security of knowing that you will receive technical support and advice whenever you need it. Besides, it gives you the confidence of having a bearing which will last and will not negatively affect your business.
ERIKS understand the perils and risks related to counterfeit bearings and this is why we are an authorised distributor for companies who ensure the highest of standards. We also offer our expert technical support and maintenance services to deliver a complete package.
ERIKS is an authorised distributor for SKF. Download our brochure here to learn more about our offering.
Take a look here at ERIKS'
Looking for more information on issues with counterfeit bearings? Take a look at the video below from the World's Bearings Association:
Related Posts: