Condition monitoring in the marine industry is nothing new. Ever since man took to the seas,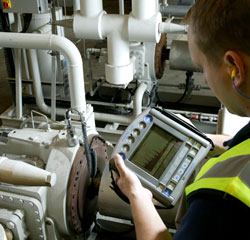 marine crews as part of their daily walk rounds have routinely listened touched and monitored the process parameters of the vessels machinery for any perceived change in condition for many years.
As always time and technology moves on and the options for monitoring and evaluating your critical machines are vast.
ERIKS Experience
At ERIKS UK we use our many years of experience with electromechanical repairs along with our knowledge of failure modes to build a condition monitoring programme to suit your vessel requirement. From oil analysis, acoustic monitoring of slow rotating equipment (slewing ring bearings on cranes), infra-red thermography on electrical switchgear, control circuits and ensuring compliance with SOLAS regulations, to using the latest high end vibration analysers across your rotating and reciprocating machinery.
By using a combination of the latest methods and technology, a condition monitoring programme can be created to ensure that the correct parameters and processes are being monitored on your individual items of kit.
Overview of services
Oil Analysis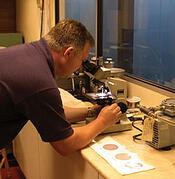 Any machine that uses oil as a lubricant, insulator or power medium can have its condition monitored by taking periodic samples of that oil, online monitoring is becoming more common, for example:

Lubricating oils used in thruster gearboxes, diesel engines and bearings are tested for moisture, viscosity change, contamination and component wear
The presence of contaminants and wear particles indicates not only wear itself, but also which component is experiencing stress or even just give an indication of the lubricant condition and any deterioration in additives.


Thermographic Surveys
Highlight potential problems quickly without the need for isolation of equipment, and can extend equipment life and availability by early detection of potential defective/failing components such as:

Switchboards
Bus couplers
Relays
Fuses
Motor/generator winding and surface temperature
Detection of exposed exhaust stacks
Acoustic Emissions

Is most effective on slow rotating equipment i.e. slewing ring bearings, winches, hoists etc. it gives an indication of current condition, and can highlight singular events such as a crack in bearing, general wear and severity of wear


Vibration Analysis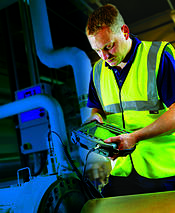 Highlights the frequencies and amplitude of vibration, which in turn allows ERIKS trained and experienced engineers to pin point problem areas. It can detect fault frequencies within;
Bearings
Thruster gearboxes
Propeller shafts
Pumps
All other parameters of machine failure
If detection of the above failure modes is made early enough this allows for maintenance and corrective actions to be scheduled at a convenient time to a vessels busy timetable.


On-Line Monitoring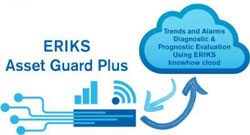 As technology has moved on so has the capability to remotely monitor your critical items of equipment. ERIKS UK has the experience and knowledge to ensure that an on-line system is designed, built and commissioned around the individual items requirements.
For example on main propulsion or thrusters the information that is required to asses the condition is more than just vibration data, there are other parameters such as pitch, load, temperature, speed. All of these parameters and more can be built into a system to ensure all aspects of the machine are being accurately monitored.
By using all available parameters a true understanding of how the machine is currently running and more importantly allows us to determine any change over a period of time as all information is being logged and any alarm conditions breached can easily be analysed and compared against base lines and datum points. Using all the parameters is the only way to ascertain if any fault condition exists.
By implementing on-line systems we know instantly when a machine has a change in condition by exceeding set alarm levels, this can be done via e-mail globally and by setting relay outputs to tie in with ships monitoring and control systems. For example "Praxis". This allows us to carry out analysis from onshore and determine the cause of the change in condition and give recommendations for remedial actions.
For further information visit our website
Or request a call from our technical experts
Related Posts: