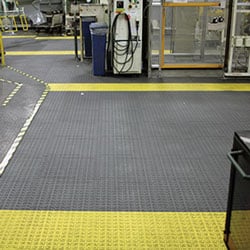 Workstation mats have proven to generate a substantial rate of return not just in terms of financial benefits, but also in improved employee morale and productivity.
The question arises, how do you achieve the same benefits for larger areas?
Ergonomic flooring is emerging as that solution. The main difference between workstation mats and ergonomic flooring is the ability to properly customize the product on-site.
Customised Solutions
Another highly desirable characteristic of ergonomic flooring is the ability to reconfigure the product. "We live in a constantly changing and ever more competitive world," said Greenberg. "Customers demand the ability to change the layout of a work cell or assembly line area without having to reinvest a substantial amount of money in new flooring."
At the same time, ergonomic flooring products have to stay put until the customer wants to make a change. "The days when customers were willing to use tape, adhesives, and zip ties to hold various pieces of matting together in a space are rapidly dwindling," observed Greenberg. "These solutions create trip hazards, are visually atrocious and, worst of all, are largely ineffective at keeping pieces of matting together. Engineered connector systems are the only way to provide flooring products that go together the way you want, stay together in application, but can be disassembled and re-assembled on demand."
Another advantage of being able to disassemble flooring relates to the 80-20 rule. "In application, we typically see that 80 percent of the wear and tear that occurs to a floor or mat happens over 20 percent of the area. The ability to simply pop out the area that needs to be replaced and quickly install new flooring components dramatically reduces replacement costs and downtime for the customer," said Greenberg.
The difference is in the interlock Positive lock where the customer utilizes an engineered connector system integrated into the ergonomic flooring pieces to connect components and create a layout that stays put in day-to-day application but can be reconfigured, as changes are required.
Safer, Healthier Working
Once installed, ergonomic flooring provides several benefits to customers. "First and foremost, ergonomic flooring provides an all-around safer work surface than concrete or cement floors alone," added Greenberg. "Studies have proven that standing and walking on cement and concrete significantly increases the occurrence of muscular pain in the feet, legs and lower back, stiffness in the neck and shoulders, and varicose veins." And, should a fall occur, landing on an ergonomic flooring surface mitigates the possibility of serious injury vs. cement or concrete.
Availability of colours, the surface design of the flooring itself and inconspicuous seams where flooring pieces come together are all critical elements of an attractive and functional ergonomic flooring product. Said Greenberg, "Customers can save tens of thousands of dollars in floor maintenance simply by installing ergonomic flooring over the top of less attractive cement or concrete."
If in doubt visit the Wearwell website to order a sample to see if it meets your needs. If it does, then contact your local ERIKS Service Centre on 0845 006 6000.
Related Posts