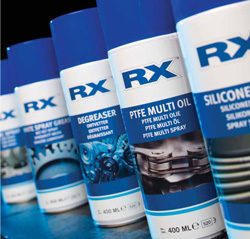 Maintenance sprays are a growing market. That can mean you're more likely to find a spray to do the job you want – but when there are so many choices it can also make it harder to find the right spray at the right price.
Which spray is most effective for your requirements?

Will it be compatible with your particular application?

Does it really represent good value for money?

And where can you find it at the lowest cost?
It's to help you answer these questions that the RX range of Bearing and Lubrication Maintenance Sprays has been introduced.
Unbeatable value
To answer the last questions first, no fewer than seven sprays from the RX Maintenance Sprays range are available as a "Buy 2, Get 1 Free" offer* – making them truly unbeatable value.
But a spray which costs less that doesn't do the job properly can actually end up costing you more. So you need to be sure that the RX sprays you choose provide the performance you need.
Fortunately, because RX products are backed by ERIKS know-how, in this case you can rest assured there's no better product for your requirements.
Handpicked by experts
Every product in the RX® Maintenance Range – including these maintenance sprays – has been handpicked by ERIKS lubrication engineers. They not only know the requirements of your industry and understand the operating environment. They also know that you want to simplify procurement and minimise inventory wherever possible,
So these sprays are not only effective. They're also effective over as wide a range of applications as possible – enabling your to reduce stock.
But cutting stock doesn't mean cutting corners. The sprays have been formulated and produced with no compromise on performance or compliance, so you can still rely on them to do the job they're designed for, effectively and safely.
Choose performance
The seven RX aerosol sprays on offer cover a wider range of uses, as outlined below:
RX Brake Cleaner – fast drying cleaner for brake and clutch parts. Removes excess brake fluid, oil and dirt to prevent squealing brakes and clutch slip or chatter.
RX Degreaser

– solvent degreaser removes oil, grease and dirt. Perfect for removal of old

lubricant from mechanical parts.

RX Foam Cleaner

– foaming cleaner for universal use.

Non-drip properties ensure effectiveness even on vertical surfaces, leaving no residue.

RX Multi-oil + PTFE

– multi-purpose oil spray with PTFE. Acts as a high performance lubricant, and protects against rust and corrosion.

RX Silicon Spray

– high grade silicone oil acts as a plastic and rubber release agent, a friction- and wear-reducing agent on mechanical parts, and can also create a water-repellent layer to help prevent moisture ingress.

RX White Grease

– high grade white grease with PTFE to lubricate bearings, guiderails, chains and other mechanical components. It applies and penetrates like oil, but has the

adhesion and water-resistance of grease.

RX Zinc Spray

– high purity zinc for protecting metal surfaces against corrosion. Can also be used as a primer coat for bare metal surfaces.
One free, one supplier
As well as simplifying the choice of maintenance sprays down to the core products you really need, the RX range simplifies ordering.
By choosing from the range, you can order all the maintenance sprays you need from a single supplier, reduce administration and paperwork, and improve delivery efficiency.
Combined with the "Buy 2, Get 1 Free" offer, it means with RX Maintenance Sprays you can really clean up.
To find out more about the range, download the brochure below. Or contact your usual ERIKS service centre to place your order now.
*Offer ends 31st December 2015
Related Posts: