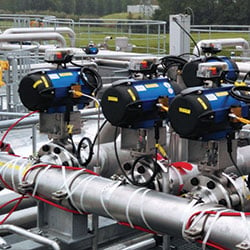 Three million operations, maintenance-free.
That's six times more than the standard actuator you're probably using. Until now, you've never had the chance to choose an actuator as long-lasting and reliable as this. But now that AMG actuators are available from ERIKS UK & Ireland you can choose to fit – and forget.
One of the leading names for pneumatic actuators in Germany, AMG designs and manufactures a complete range of pneumatic rack & pinion actuators, for operating all kinds of ball, plug, butterfly and multiport valves.
Yet what really sets AMG actuators apart is their exceptional reliability and long life.
With a compact design which means they can fit in even difficult to access locations, they can be left to get on with the job without maintenance. If there's only low-frequency use, or a long standstill period, you can still expect the valve to open or close reliably as required. And if there's high-frequency use with millions of cycles, the AMG actuator will go on working smoothly, time after time.
That's why they're chosen by customers for use in critical applications such as in the chemical, pharmaceutical, food, oil & gas, steel industries, and for other other highly-demanding applications where actuator failure just isn't an option.
Made to last
To create an actuator that can operate reliably for up to three million operations, you need to design with care and manufacture with precision.
For example, German-engineered AMG pneumatic actuators operate with the forces on the pinion continually balanced to prevent misalignment, thanks to stainless steel rods guiding the movement, and smooth, precision-machined contact surfaces in the open and closed positions.
The same precision machining of the pinion and rack ensures a seamless fit and effective transition of forces. And precision-machining of the actuator body and interior keeps seal and bearing wear to a minimum.
Chosen by leading European companies in the process industry, AMG actuators are backed by extensive product training, and local support from ERIKS. So you're not only guaranteed millions of trouble-free operations, but also on-time delivery, technical expertise, and unrivalled product and application know-how.
In fact, now ERIKS supply AMG in the UK and Ireland, make that 3,000,001 reasons to swap your existing actuator.
Swapping DOWNTIME For UPTIME
An actuator at an end-user's site was requiring frequent replacement, leading to costly downtime, loss of production, and actuator replacement costs.
An authorised fluid control distributor in the USA replaced the actuator with a modified AMG model. This operated continuously for 18 months without problems before failing. When it was returned to the workshop for repair it was discovered to have completed a staggering 16 million cycles, maintenance free.
Related Posts