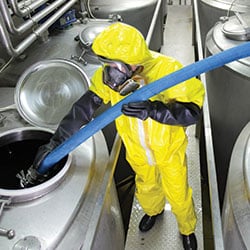 If you provide protective gloves to everyone on your site who works with chemicals, you're doing what's right, right? You're meeting your duty of care, and you're complying with H&SE directives. But do you ever wonder if those directives really go far enough?
After all, with hundreds of chemicals available, surely it would be almost impossible for every type of glove to be tested against every single chemical?

The worrying fact is, you'd be right to wonder.

What actually happens is a least-worst scenario, where the EN374 standard – which covers chemical and micro-organism risks – requires tests for penetration (in other words: leakage) and permeation (chemical breakthrough) against only three chemicals. And those three are selected by the glove manufacturers themselves, from a list of just 12 of the chemicals in most common use:
Methanol

Acetone

Acetonitrile

Dichloromethane

Carbon disulphide

Toluene

Diethylamine

Tetrahydrofuran

Ethyl acetate

n-Heptan

Sodium hydroxide 40%

Sulphuric acid 96%
If your employees are working with one of the hundreds of less commonly used chemicals, it's very likely the gloves will not have been specifically tested against it. So even if they meet the EN374 standard, there's no proof that they actually offer sufficient protection for your particular application, until they're put to the test in real life.
And that's the last place you want to find out their protection falls short.
Double standards
You may be one of the people who's found a quick – but costly – fix for this problem: so-called "double-donning."
If one pair of gloves doesn't give sufficient protection, the reasoning goes, then surely two pairs worn on top of each other will? The answer is: not necessarily.
If one pair protects against permeation for example, for 30 minutes (the EN374 standard performance requirement) then two pairs should in theory offer protection for an hour. But what if the gloves haven't been tested against the particular chemical being worked with in the first place? Two layers of glove won't make a great deal of difference then.
And what if the task being carried out involves a certain level of manual dexterity? Two pairs of gloves means double the thickness, which in turn means half the flexibility and half the sensitivity. There's not much point theoretically having twice the protection if it also makes the wearer twice as likely to drop something dangerous or vital.
Last but not least, double-donning means double the cost too.
So is there a solution for hand protection that's:
more reliable

more scientific

more cost-effective
ERIKS' supplier partner Honeywell has it to hand.
Performance tested
While the EN standards' testers use just three from a dozen common chemicals, Honeywell has a database of over 300,000 hazardous substances. All of which are used continually in their own laboratory (Europe's largest in the industry) to test Honeywell's KCL brand chemical protection gloves to DIN ISO 9001 standards,
So if you need to know which gloves to choose for protection against a specific chemical or in a particular application, Honeywell can provide you with detailed testing information, and with the most appropriate gloves from the KCL range.
Whatever chemicals your employees are working with, don't risk their safety, and don't risk a glove that's only been tested on a handful of chemicals. Talk to your usual ERIKS Service Centre about Honeywell KCL chemical protection gloves. Your employees' hands will be safe in their hands.
Related Posts