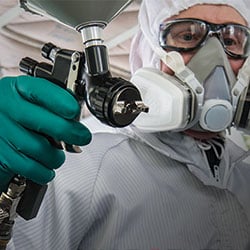 Paint shop workers are exposed to harsh chemicals and aggressive solvents when mixing and spraying paints. Even after their work is done, they need to protect hands when cleaning paint guns and robotic spray heads. Because their fingers have to reach in and around the small parts and pieces of this equipment, paint shop workers need thin chemical protection that offers good tactile sensitivity and dexterity.
Ansell's Microflex 93-260 offers superior support for workers in such an environment. Microflex 93-260 is the thinnest chemical resistant disposable glove available. Because it offers greater tactile sensitivity than most traditional chemical gloves while protecting against a broad spectrum of chemicals it helps paint shop workers handle and clean their equipment more efficiently and effectively.
The key benefits for Microflex 93-260 are:

Decreased risk of spills, accidents, chemical exposure

Increased safety

Increased efficiency and productivity

Ergonomic design for better wear time

Want to know more? Contact your local service centre on 0845 006 600. Or if you're attending the ERIKS Innovation Excellence event at the MTC, Coventry, 3rd October 2017, visit the Ansell Stand.
Related Posts