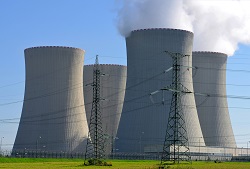 An article in The Engineer magazine has revealed that wind energy may not be the sufficient on its own to keep the UK lights on this winter. With the upcoming wave of energy price increases, there is an increased risk of power cuts for UK households and businesses.
Despite the boost of renewable energy production - and the fact that UK is now on track with achieving its target of increasing renewable energy production by 15% by 2020 - sources of energy such as nuclear power are now once again being considered in order to keep the energy security of the country.
A lot of unwelcoming thoughts usually spring to mind when nuclear power stations are mentioned. Nuclear reactors are often associated with the nuclear disasters in Fukushima and Chernobyl, but are they always the ultimate danger?
Nuclear power has the potential to help avoid an energy crisis in the UK. The sector accounts for one sixth (18%) of the power generated in the UK at the moment. It produces low CO2 emissions and growth in the nuclear sector can contribute to the target for reducing CO2 emissions by 80% by 2050 the UK has set.
The Opportunities
Energy companies are supported by the Government in building nuclear power stations by being offered a funding scheme focused on easing the costly nuclear waste disposal and also considering future decommissioning costs. Furthermore, a growth in the nuclear sector promises 29,000-41,000 job openings across the nuclear supply chain.
According to statistics, the engineers, specialising in nuclear power are ageing which means that investing in nuclear power generation gives the UK industry the opportunity to create new skilled nuclear energy workforce.
The Hurdles...
The setbacks standing in the way of sourcing more nuclear power are numerous, one of the most important ones being time. Building a nuclear power station can take about 10-15 years and with the current energy situation in the UK, this means action should be taken as soon as possible.
Another topic for discussion for many is whether the benefits from generating nuclear power actually outweigh the health risks.
An extensive assessment process ensuring all Health and Safety Requirements are satisfied is conducted before granting an authorisation for building reactors.
The Future
Some of the market leaders in the energy industry such as EDF have already shown interest in building nuclear power reactors; first of which are planned to be finished in 2023. Nuclear energy is returning as a credible source of power generation not only in the UK but all around the world. An informal network of EU countries supporting investment is in existence and the idea is also supported internationally by countries such as China, The Republic of Korea and Russia.
What do you think the next steps should be for the UK energy industry?
More information about ERIKS and the Power Generation industry available here:
Sources: Gov.uk , World Nuclear, The Engineer
Related Posts: