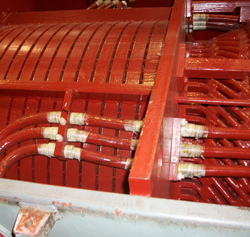 Partial Discharge (PD) is an electrical discharge or spark across a void or gap in electrical insulation between two electrodes (for e.g. in a motor the copper conductor and earth) without fully bridging across the two electrodes - hence the term "Partial". The reliability record of large high voltage Machines is generally good.
However, experience has shown that when failure does occur it is generally caused by a breakdown in the Stator Winding Insulation. Carrying out a Partial Discharge test during a high voltage "HV" motor overhaul can detect future potential failure points on the winding main cables and terminal bushings as well as the winding condition. Such weakness, if remain undetected would lead to future reliability risk and potential electrical breakdown failure in service.
When problems arise
Recently, a client's 11KV 1500KW motor was sent in for overhaul. After cleaning and drying a partial discharge test was carried out which revealed very high partial discharge activity.
Analysis and investigation by ERIKS experienced HV machine engineers identified that the high discharge was not due to a problem in stator winding but due to the stator cables discharging to parts of the metal frame and support brackets.
To cure this, the stator leads were additionally insulated in these areas and the stator retested. After repair it gave very good low partial discharge levels.
Why should you test for Partial Discharge?
Without this test the above potential failure areas would not have been highlighted and would have effectively been a ticking time bomb in service, discharging away until they eventually break down causing machine failure, loss of production, fire risk and subsequent burning and damage to the winding and other parts of the machine.
It is also important that the people carrying out the tests are experienced HV rotating machine people who understand not only the test process but also its application on a high voltage rotating machine winding and its construction and complexities. Clearly without experienced diagnosis in the above examples an incorrect conclusion could have easily been made condemning the winding and recommending a needless rewind of what was a healthy winding, adding significant extra wasted cost and time.
Related Posts