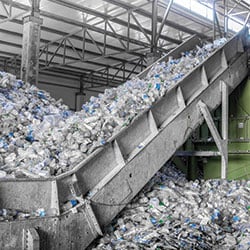 5 people were killed in the waste and recycling industry in 2016, and 37 from 2010-15. Add in the 6,000+ workplace injuries in the industry over the same period, and it starts to look like a very dangerous place to work. But could it be your focus on the wrong KPIs that's a potentially fatal error?
Tonnage targets for recycling, and strict operating deadlines imposed by Council contracts, don't do anything to make your life easy. All they do is force you (or your managers) into an "at all costs" mentality to keep the line running.
But if you're not careful, that can translate into quick fixes and short cuts when equipment fails, leading to more and bigger problems in the future. It can also result in ever-reducing efficiency, ever-increasing energy costs, and rising outlay on equipment replacement.
Worst of all, as the figures show, it may even lead to health and safety errors, with terrible consequences.
So instead of chasing breathlessly after one or two KPIs, what if you took a deep breath and took back control? You could still meet your KPIs, but on your terms.
Be an all-round performer
Concentrate on one KPI at the expense of others, and the figures look good at first glance. But you can't trade off injuries against tonnage processed. And savings on equipment costs are soon wiped out when the cheap product breaks and needs replacing sooner.
So why not take a 360° view instead, and take all your KPIs into consideration?
You'll find that taking a different approach to meeting one KPI can actually help you meet some of the others. And before long, instead of your KPIs controlling your life, you've taken control of your KPIs.
Stepping off the treadmill
One of the first steps towards taking back control is to get off the treadmill of:
– breakdown – unplanned downtime – quick-fix repair – reduced efficiency – breakdown – unplanned downtime – and so on, and on and on.
You may feel that getting production back up and running quickly is helping you meet your tonnage targets. But if you rely on quick fixes and fail to address the underlying issues, your equipment will become less and less efficient. And if the quick-fixes are also unsafe fixes, the risk of injury, or worse, becomes more likely than ever.
So how do you avoid the unexpected breakdowns and unplanned downtime that force you into being reactive, not proactive?
See the future
When equipment grinds to a halt without any apparent warning, it's easy to say "I didn't see that coming." But with Condition Monitoring, you will see it coming. And you'll be able to do something about it before a small issue becomes a major problem.
At its simplest, Condition Monitoring gives you the tools you need to check for the early warning signs of equipment failure. You can use Vibration Analysis to identify the oscillations that reveal a bearing flaw, defective gear or other problems; use an endoscopic camera to check inside gearboxes for signs of bearing wear; and use thermal imaging cameras to detect overheating, stresses and leaks.
All these tools help you spot problems in their earliest stages, so you can plan and minimise downtime, and prepare for and carry out planned, effective, long-term repairs.
At the next level, monitoring can be made an integral part of your processes. ERIKS Preventative Maintenance Solutions for example, take time-based readings, and provide text or email warnings if pre-set parameters are exceeded.
Or for the highest level of monitoring, an option such as the cloud-based ERIKS eConnect System will take continual readings, warn you of intermittent incidents, identify trends, and provide you with asset performance data and diagnostic and prognostic evaluation. As well as sending you text and email warnings, of course, so you can take timely action to avoid catastrophic failures and minimise downtime.
Predictive maintenance of that kind has been shown to increase productivity by as much as 15%.
Take the long view
When you focus on tonnage targets or deadlines, it's easy to forget about Best Practice, health and safety, equipment and energy costs, and legislation.
But when you take all your KPIs into consideration, you can actually make it easier to achieve more of them.
You can:
Reduce Mean Time to Repair

Increase equipment availability

Increase maintenance efficiency

Optimise your Waste Recycling Rate

Maximise Critical Equipment availability

Increase equipment performance

Minimise the maintenance cost per unit and

Reduce the percentage of hazardous operation waste
And last but not least, you can show that, when it comes to meeting KPIs, you're the best person to do it.
Related Posts