We spend on average 16,000 minutes a year watching cat videos and googling famous people, but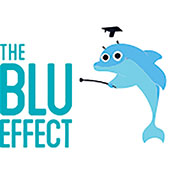 only seven minutes learning about energy usage. So it's not so surprising that by 2020, Europe will have wasted €157 trillion worth of energy simply by leaving lights and heating on in empty homes. Suddenly sustainability seems a bit more interesting than a cat having a shower.
In fact, sustainability is something we should all be concerned about. Whether because we want to help protect our planet from climate change, or want to have a smaller electricity bill, or want to help make the business we work for more successful and more profitable.
And it doesn't have to be an either/or situation. Sustainability can start at home or work, but in the end it benefits us all – and our whole planet too.
That's why ERIKS and Economie d'Energie – specialists in energy efficiency – have joined forces to create The Blu Effect: a new business dedicated to helping businesses integrate sustainability into their organisation, as a lever for innovation and business success.
Taking on the Challenge
To encourage businesses to engage with sustainability and reap the benefits, The Blu Effect has launched the Blue Planet Challenge.
This is a simple but powerful way to get employees interested and involved, and to show how small behaviour changes can have a big effect on the planet – and on a business.
According to a Business In The Community estimate, innovations designed to address environmental and social challenges 'could secure £100 billion in annual productivity gains' for UK business.
But the Blue Planet Challenge is not only about being sustainable at work. It ensures employee engagement by encouraging sustainable, responsible behaviour at home and when travelling too. In this way, there can be benefits to their personal finances, just as much as to the business they work for.
Every little helps
The Blue Planet Challenge shows what can happen when everyone gets involved. It shows how small actions really can make a big difference. And it keeps everyone involved all the time, by showing the savings, sharing ideas and xperiences, and letting people, departments and business units – across the country or across the world – compete with each other to be the most sustainable.
When a business signs up to the Blue Planet Challenge, it gets its own web portal. This is where the rankings – based on CO2 savings – of its employees (who sign up individually), its departments and so on, are shown. It's also where people can see how many of their colleagues have signed up, and how much the organisation as a whole is saving through individuals' eco-actions. And it's the place to go for all the Blue Planet Challenge news, ideas and best practices.
"The challenge begins with saving energy. But as an employee engagement deepens, it can develop into saving water and saving waste"
Practising what we preach
Although ERIKS has been promoting sustainability for some time now, through its Planet+ initiative, it has never directly addressed sustainability as a potential market. So before encouraging customers to take the plunge, they opted to face up to the Blue Planet Challenge itself.
And in around just five weeks since the Challenge was launched at ERIKS UK, the company is already realising the benefits it's promoting. ERIKS has already saved over 15 tons of CO2, and employee engagement is significantly higher than any other company initiative has achieved in the same amount of time after launch.
Doing good business
Of course The Blu Effect and the Blue Planet Challenge are not just about doing good. They're also about doing good business – for the businesses who take on the challenge, and for ERIKS too.
By offering the Blue Planet Challenge initiative to existing and new customers, ERIKS is opening up a new revenue stream, at the same time as helping those businesses to benefit. And the benefits really are numerous.
There's the reduction in energy costs. Savings in compliance costs, thanks to reductions in carbon emissions. Increased employee engagement and job satisfaction, which in turn reduces staff absence and turnover, and increases their commitment to their employer.
Employees also benefit individually from lowering their own energy costs, at home and as they travel. The Blue Planet Challenge improves internal and external communication, with the dedicated web portal for each business that signs up.
And in the longer term, for any business which takes it on, the Blue Planet Challenge helps to create a real point of difference and a competitive advantage.
Sustaining sustainability
ERIKS is fully committed to sustainability as the right way to do business. It is already becoming embedded in the business as a fundamental contributor to growth. Now it's time to encourage customers to make the same commitment – and one has already taken up the Challenge.
A Local Education Authority will soon be launching the Blue Planet Challenge for all the schools in its area. This will be a first step in sustainability for many young pupils and students, as well as being an entirely new customer segment for ERIKS.
With care and commitment, it should prove a long-term success for both parties, and for the planet.