The quarrying industry is dangerous enough, without having to worry about every breath you take, yet one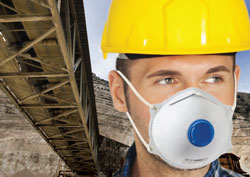 of the health risks of working in the industry is caused by exposure to fine dust, containing crystalline silica (otherwise known as quartz). So it is essential to use the correct personal protection equipment.
Quartz is found in almost all kinds of rock, sand, clay, shale and gravel. Fine dust from any of these sources, if it finds its way into the lungs, can put workers at risk of developing silicosis: a chronic and possibly severely disabling lung disease.
Silicosis has only bee seen in workiers from industries where there is a significant exposure to silica dust – such as quarries, foundries and potteries. It usually takes a number of years of regular daily exposure before there is a risk of developing silicosis, but the link between working in the quarrying industry and the disease is clear.
There is now also evidence that heavy and prolonged workplace exposure to dust containing crystalline silica can lead to an increased risk of lung cancer. The evidence suggests that an increased risk of lung cancer is likely to occur only in those workers who have developed silicosis.
So clearly, there's a need to minimise silica dust where possible, and also to prevent it being breathed in.
Identifying dust
All dusts are not the same. The amounts of silica found in quarries depends on the types of materials being worked on. And in turn, that affects the amount of silica in the dust in the local atmosphere.
The only way to be sure of the levels of silica – and the risk of lung disease for workers – is to have the materials being worked on, and the dust in the air, sampled and analysed.
If silica is identified, current advice from the HSE is for any person who is exposed to the dust to be supplied with a P3 respirator. This will prevent dust particles from penetrating the filter and entering the lungs.
The filter medium used in P3 filters is 99.7% efficient against dust particles down to 0.5 microns, so there is very little chance of any lung-damaging dusts entering the lungs. In fact, a disposable FF P3V, or a half-mask fitted with P3 filters, offers a protection factor of twenty times the Work Exposure Levels set by the HSE.
However, reducing the amount of dust created by the processes should always be the first step. This may mean anything from changing the way the minerals are extracted, to using water suppression, for example, to minimise airborne dusts. As always, best practice prefers prevention to cure.
Related Links: