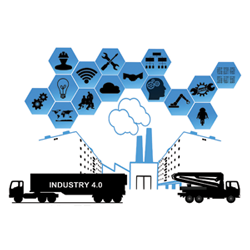 We all know that Industry 4.0 is a hot topic at the moment for UK industry, so why are there obstacles in the way of its implementation?
We conducted an industry report to find out if UK industry is ready for industry 4.0.

Knowledge is Power
72% of the engineers who took part in our research understand the potential of Industry 4.0 yet 55% of respondents graded their own knowledge of Industry 4.0 as average or below.

Full Disclosure
Information sharing is causing some concern amongst OEMs and third party maintenance suppliers, despite its potential to facilitate more progressive maintenance practices.
79% of organisations said they would only offer limited or non-disclosure information to OEMs.

Even worse though, 83% said they would offer limited or zero disclosure of information to third party suppliers.

What's worrying is that it's the third party maintenance suppliers who know individual components and sub-assemblies best in machines, so need this information to diagnose, fault-find and prescribe solutions.

Big Data
UK engineers are clearly concerned about their ability to interpret and use data, with 56% of respondents admitting they need the support of the OEM for machine diagnostics and fault-finding.

What's more, 40% say they are average or poor at interpreting data yet only 46% of engineers said their organisation would grant access to a third party supplier.

Don't ask, don't get
One potential conclusion is that UK industry is looking too much at the bigger picture and the opportunities ahead, but failing to understand how it can be achieved. With support however, the right partner will be able to help businesses to build and design sensing systems that provide data in the right format and will in turn help them to make decisions.

With the right advice, businesses can build secure local area networks using sensor technology; providing early insights and fast links to the supply chain and enabling work schedules to be planned ahead of assets coming to a grinding halt.

'Is the UK ready for Industry 4.0? Industrial maintenance in a connected world of Big Data' is available to