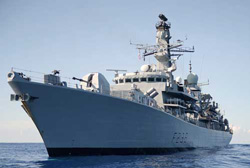 Our Impartiality is a Win
ERIKS have a unique offering that few others have. We can give a completely unbiased opinion on whether to repair or replace a part, as we do both! So we will always choose the most appropriate and most cost effective option for you.
ERIKS signed a three year single source repair and site maintenance contract for rotating equipment with Portsmouth based Fleet Support Ltd (FSL). This meant that ERIKS received all the motors and pumps for repair or replacement from four Royal Navy Frigates undergoing refits. ERIKS' expert Marine Services Team also undertook switchboard, generator, wiring overhaul and refurbishment work onboard the ships.
ERIKS Know How in Action
ERIKS were successful in winning the contract as having worked on previous FSL contracts, they had confidence in ERIKS. Also ERIKS' unbiased offer of maintenance solutions was a strong factor - whether it be a repair or a component replacement requirement, ERIKS can deliver either, with a guarantee, from within our own organisation.
ERIKS carried out condition testing and visual inspections of the ships motors and pumps, including electrical, thermal, noise, vibration and lubrication analysis. The data was used to identify any potential issues and enabled ERIKS to judge the cost and timescale of repairs.
The Numbers
ERIKS repair or replace over 10,000 motors each year and specialise in all aspects of motor replacement; from condition monitoring to conducting motor efficiency and usage surveys, supplying both full repairs to any size motor and providing new motors off-the-shelf from 0.25kW to 250kW and above. ERIKS' Marine Division specialises in providing vessels of all sizes with guaranteed repairs both in-dock, at their intended destination and out at sea. The services available include mechanical engineering, electrical work, condition monitoring and access to a worldwide product supply network. View our Marine Repair or Replace webpage
Related Posts: