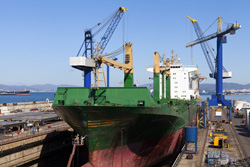 ERIKS are able to carry out maintenance wherever the customer requires it, whether it is off-shore, shore side or anywhere in the world.
ERIKS Aberdeen Field Services were requested to mobilise a nine man team to carry out a three week 'Health Care' maintenance task aboard an Oil & Gas Well Intervention and Diving Support Vessel during a scheduled dry docking in The Netherlands.
ERIKS in Action
A set of inspections took place while the vessel was in operation to determine the extent of the maintenance work needed on the ship. The work identified consisted of, HV Motor and Generator inspections and remedial work resulting from Partial Discharge Testing. Also identified, was that one of the main generators needed to be removed and replaced with an ERIKS rewound spare.
In conjunction with these repairs, there was a need to carry out testing on all of the protection relays including those of the motors and generators. All relays were tested to ensure settings and operational parameters were within specification and were adjusted if required. Air circuit breakers (ACB's) were removed and bench tested after being stripped, cleaned, electrically tested and function tested before being re-installed and final tests carried out.
All of the power transformers were also tested for signs of discharge activity before being isolated to allow insulation resistance testing to commence. The earthing transformers were also rigorously tested, along with the vacuum contactors to ensure operational integrity, as was all of the associated protection.
Best Practice
Very often ERIKS detect early faults through providing extensive conditioning monitoring on vessels, such as this one, using tools like vibration analysis, thermography, oil analysis, partial discharge testing and protection relay testing. Take a look at our website to see our Condition Based Monitoring offering
ERIKS can provide vessels of all sizes with guaranteed repairs at their intended destination, rather than having to make unscheduled voyage deviations or incurring excessive layover periods. The services available include mechanical engineering, electrical work in addition to a worldwide product supply network.