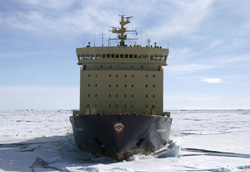 The Issue
The RRS Ernest Shackleton Ice Breaker is used to support shipping and piping operations across the North Atlantic, making safety and reliability of paramount importance. Such hazardous work requires all systems to be operating within specified limits to ensure safety of the boat and crew is maintained as well as gaining the yearly SOLAS certification.
The Aim
Under the new SOLAS requirements, it is mandatory for all ships to undergo thermographic testing to identify surface temperatures that are unacceptably high (over 220°C) and therefore pose a fire risk. By using state-of-the-art thermal imaging equipment, vessels can now have a complete survey carried out by ERIKS engineers whilst at sea, minimising layover periods through predictive maintenance and providing all information required to pass safety checks.
The Action
In order to make sure electrical and exhaust components meet the requirements, the ship has to be at sea where systems are fully operational. As a result, following a successful proposal, a member of ERIKS EMS met the RRS Ernest Shackleton in Tanager, Norway to carry out thermographic survey and a report on the three day voyage to Portsmouth was produced there.
In all, over sixty pieces of mechanical and electrical equipment were scanned over the first two days of the voyage, which resulted in over twenty areas of concern and recommendations for rectifying the faults. Whilst relatively little work was required to correct the faults, the pre-emptive maintenance enabled the ship to meet SOLAS requirements and prevented a potential circuit failure in the main switch board breaker as well as air conditioning and de-icing cabinets. To find out more about what we can do in this area order a copy of our marine brochure
Thermographic surveys are just one of the many marine services available from ERIKS' nationwide network of distribution centres and specialist workshops, situated near all major UK ports. ERIKS' Marine Division has the capacity to carry out work ranging from emergency ship repairs to project management of complete refits at any UK port. All sizes of vessel now have the convenience of guaranteed repairs at their intended destination, rather than having to make unscheduled voyage deviations or incurring excessive layover periods.
Related Posts: