Did you know that 70% of friction drives are incorrectly installed?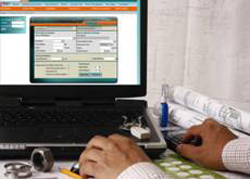 When you consider the number of applications dependent on the efficiency and reliability of friction belt drives that figure is quite astounding.
But don't panic, with just a few simple steps and the support of ERIKS - your Authorised Fenner Distributor we can ensure that your belt drives achieve their optimum efficiency, full operating life and reliable performance.
With the Fenner brand it's all about the S.C.I.E.N.C.E. - Select Correctly, Install Effectively, Never Compromise Efficiency. If you follow these simple rules you can be confident that your drive selection will perform.
1 - Select Correctly
Choosing the right drive will ensure that it uses the smallest number of belts which could potentially reduce the number of grooves on pulleys required or the minimum belt width, which will in turn:
Reduce the loading on the machines bearings, increase the machine lifecycle, reduce downtime and the risk of mechanical failure
Reduce the noise levels and keep noise pollution to a minimum at high speeds
Reduce the amount of raw materials and resources used, cutting down on waste and subsequent pollution
The on-line Fenner Drive Design Assistant is available on the Fenner website to help you quickly select the correct belts for your application.
2 - Install Effectively:
Once you have carefully selected your belt drive components, the correct installation is crucial for ensuring longevity and efficiency of your selected drive. It may be worth considering the following points as part of your installation best practice to keep the risk of premature failure to a minimum:
Take a moment to double check the alignment of your pulleys, this simple check can eliminate belt flank wear which otherwise can lead to premature failure. The Fenner Laser Alignment tool is the perfect solution allowing for quick, easy and accurate pulley alignment.
When the pulleys are positioned correctly, ensure that you have the correct installation data to hand. For example, pay particular attention to the correct setting forces for the belt you are installing - a correctly tensioned drive avoids belt slippage, and guess what we have a tool that can help you – The Fenner Belt Tension Indicator.
3 - Never Compromise Efficiency:
Don't forget to include your belt drives as an integral part of a planned maintenance schedule this will ensure maximum process uptime, prolonged life of the drive and optimum operational efficiency.
Following these 3 simple steps can provide you with major benefits:
Maximum Drive Performance
Maximum Drive Life
Less Stress on Machine Components
Maximum Productivity and Uptime
Lowest Total Cost of Ownership
…and remember:
Remember your drive stands or falls by the accuracy of your selection and installation, so take the time to get this right and you will reap the rewards, of a reliable, efficient belt drive - Use the S.C.I.E.N.C.E!
To find out more about Fenner Power Transmissions please visit the Fenner Website:
Order a copy of our Belt Selection poster here:
Request your free Fenner Pulley Groove Gauge here:
Request a copy of the new Fenner Design Manual here: